1 life down, 8 to go: Miracle cat rescued after 16 days in Italian earthquake rubble (VIDEO)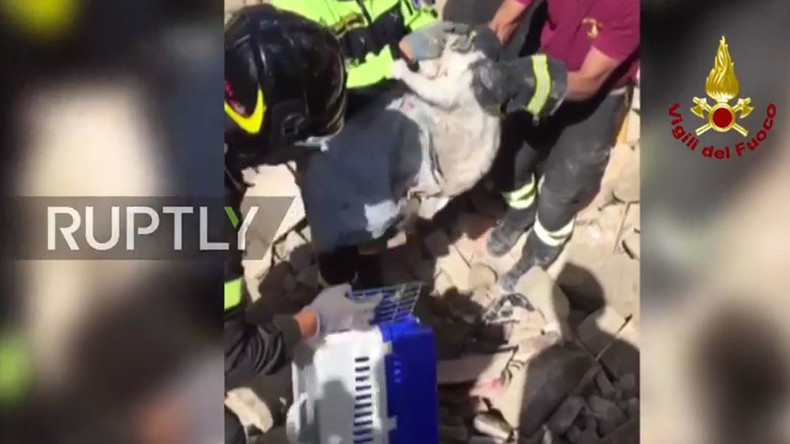 A lucky cat named Pietro used up one of its nine lives after remarkably surviving under the rubble of Italy's latest earthquake for 16 days by licking raindrops to stay alive.
The moggy had been trapped for over two weeks under the remains of a collapsed house in the hill-top town of Amatrice when it was pulled out from the rubble by rescuers.
Firefighters were in the midst of excavating the remains of the house when they heard faint meows from under the rubble.
Video footage showed the cat being lifted from underneath destroyed parts of the building. It was severely dehydrated and firefighters immediately gave it a drink of water before sending the animal to a vet's surgery in the town of Rieti.
A firefighter at the scene was surprised the cat survived: "It's really true that cats have nine lives, look at that," he said, the Telegraph reports.
Animal protection agency ENPA, which assisted with the rescue said the cat was hurt but lucky to be alive and used the hashtag #ForzaPietro (go Pietro), to show support.
Italian Twitter users expressed happiness in this case after the devastating earthquake from August 24 killed 291 people.
One cat lover said, "Show everyone the strength of a kitty," while another thanked the "heroes" for the rescue mission.
Pietro suffered a fractured jaw and is to undergo further exams to assess his condition. An operation has also been scheduled to repair the feline's jaw, according to the Local.
The latest rescue mission comes after a dog was rescued from Italy's 6.2 magnitude earthquake nine days after it struck.
READ MORE: Dog rescued from Italy's earthquake rubble after being buried for 9 days (VIDEO)