Mega cruise ship destroys marina in Sicily (VIDEO)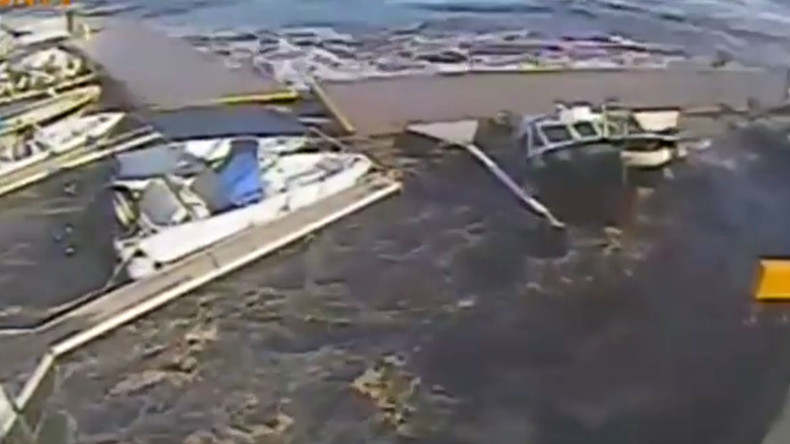 A massive cruise ship destroyed a pier and sunk a number of boats in Sicily, Italy as it pulled away from its berth.
As the water started to foam behind the cruise liner, a thick wake surged towards the shore smashing through the concrete pier and toppling docked boats.
The 133,500 ton Carnival Vista, the largest ship in the Carnival fleet, created a "mini-tsunami", causing extensive damage to the port in Messina on August 28, according to Italian news agency Ansa.
CCTV footage shows the dramatic moment the huge ship's churning engines caused a crazy set of waves which turned up walkways and smashed vessels against a harbor wall.
As the chaos unfolds, the colossal cruiser - built at cost of $780 million - can been seen pulling slowly out of port, oblivious to the carnage it caused closer to shore.
The Marina del Nettuno port in Sicily boasts a seafood restaurant, space for 160 vessels and the protection of a reinforced concrete dam.
Mooring a vessel at the harbor can cost as much as €27,000 a year, and it is estimated that the bill for the damage could top €250,000.
Port authorities have since opened an investigation into the incident.
The European and transatlantic ship was launched by Carnival Cruise Line earlier this year.
The multi-storey vessel includes a gallery of restaurants, top deck running area and suspended cycle track.
The Carnival Vista is over 1,060 feet in length (320 m), has 15 decks, and can ferry almost 4,000 passengers at a time.
Carnival has suffered a spate of problems with its cruises in recent years, most severely back in 2012 when 32 people were killed after its Costa Concordia vessel ran aground off the coast of Tuscany.
READ MORE: 'Cruise-by salute': What happened to Costa Concordia?

The ship's captain Francesco Schettino was found guilty of manslaughter and sentenced to 16 years in prison following the disaster.
You can share this story on social media: