Guerrilla artist Banksy could be collective led by Massive Attack founder, claims blogger (POLL)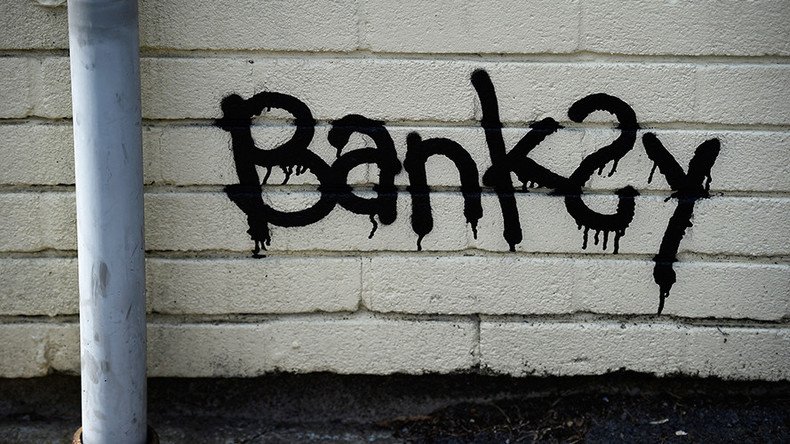 The mysterious guerrilla artist known as Banksy could actually be part of a collective including at least one member of UK band Massive Attack, according to a new investigation by a Scottish journalism student.
Craig Williams spent five months painstakingly mapping out international appearances by the electronic trip-hop band and places where Banksy art work has appeared.
Williams lists dozens of locations across the globe where the appearance of Banksy murals and Massive Attack tours seem to have coincided.
Banksy's art is often satirical and contains political and social commentary.
Although Massive Attack could not account for all of Banksy's artwork, he found some compelling evidence to point to either a band member or their associates being involved.
Banksy and the band are both from Bristol - and the secretive artist has said he is friends with Massive Attack's founder Robert Del Naja, an enthusiastic graffiti artist known as 3D who appeared in the film Exit Through the Gift Shop.
The research builds on a previous rumor that a group of graffiti artists went on tour with Massive Attack in North America in 2010, with new Banksy works popping up as the band moved across the US and Canada.
Craig says some UK and Australia tour dates also match up as times when Del Naja traveled with the band.
In 2008 when 14 Banksy stencils appeared in New Orleans, Del Naja and fellow band member Neil Davidge were in the Crescent City for the premiere of the documentary Trouble the Water.
The only known Banksy artwork in Italy appeared in Naples in 2010.
Del Naja, a massive fan of the local football team in Naples, revealed in a radio interview that he was in the city to see a soccer game at roughly the same time the mural appeared, according to the research.
Banksy's artwork in Palestine and Mali proved harder to connect to the boys from Bristol since neither Massive Attack or Del Naja were known to be in either location at the time they were created.
However, the research does note that Massive Attack are huge supporters of Palestine, working with the Hope and Optimism for Palestinians in the Next Generation (HOPING) foundation.
Del Naja was also involved in a project called Africa Express alongside Damon Albarn, who produced an album in Mali by musicians Amadou & Mariam in 2008, around the same time Banksy murals popped up in the central African country.
This new research was undertaken after a study by Queen Margaret University claimed that former Bristol public schoolboy Robin Gunningham was Banksy.
Unsatisfied with those findings, the researcher set out to investigate if Banksy, "akin to the Shakespeare conspiracy theories," is a group of people.
So what do you think? Who is Banksy?
You can share this story on social media: