Ketchup on all the best bits from Spain's mass tomato fight here (VIDEO, PHOTOS)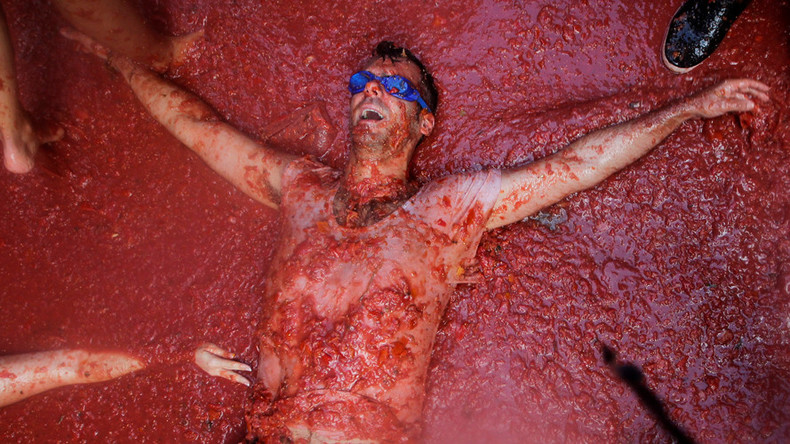 The ultimate food fight was held on the streets of Bunol in Spain for the annual La Tomatina festival being held, with some 22,000 people chucking tomatoes at each other.
It all started off as a relatively clean affair.
Then, trucks full of tomatoes arrived into the town and things got messy. Very, very messy.
While many seemed pretty content jumping around, some went a little further and found themselves swimming in tomato juice.
Around 24 tonnes of tomato are flung during the epic food fight, which has been held in the town on the last Wednesday of August since 1945, although the origin is unclear.
Not everyone sees the fun in the event though, with some calling out organizers for wasting such an amount of food.
#LaTomatina you guys are throwing the food while a lot of poor people looking for small pieces of bread to eat. What ashamed 🌚💔

— Turki (@Turkim3) September 1, 2016
Millions of people are dying of hunger worldwide & people are throwing tomatoes at each other for fun? #LaTomatina

— Lana (@LanaAlShareef) August 31, 2016
We could focus on world hunger or we could spend resources growing and harvesting vegetables to throw at each other #LaTomatina

— Nylow (@NyLow9) August 31, 2016
The event finished up after 90 minutes and, surprisingly, there were no major injuries reported.
You can share this story on social media: