Deeper 6,000 sq km reef discovered hidden behind Great Barrier Reef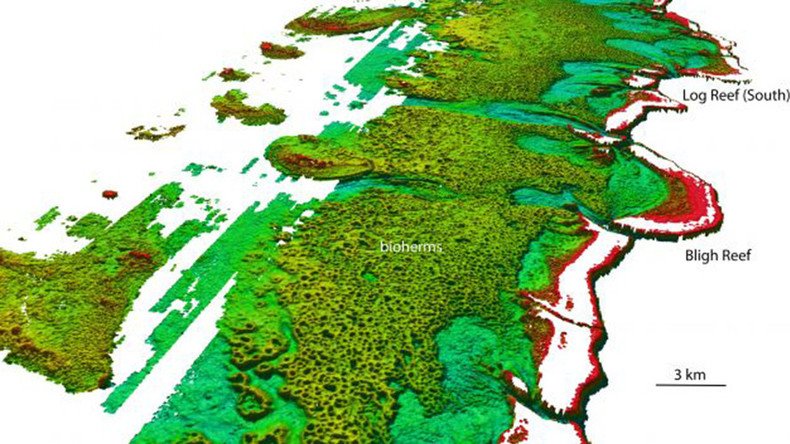 Marine scientists in Australia have discovered a massive 6,000 sq km reef hiding behind the world famous Great Barrier Reef.
Laser-mapping technology known as LiDAR was used by Royal Australian Navy airplanes to create a detailed plan of the reef, which researchers have for decades believed existed without being able to produce definitive data.
"We've known about these geological structures in the northern Great Barrier Reef since the 1970s and 80s, but never before has the true nature of their shape, size and vast scale been revealed. The deeper seafloor behind the coral reef amazed us," Dr Robin Beaman of James Cook University said.
James Cook University, University of Sydney and Queensland University of Technology scientists took part in the research.
Mardi McNeil from Queensland University of Technology confirmed the progress his team of researchers had made.
"We've now mapped over 6,000 square kilometers [2,300 square miles]. That's three times the previously estimated size, spanning from the Torres Strait to just north of Port Douglas," he said. "They clearly form a significant inter-reef habitat which covers an area greater than the adjacent coral reefs."
A good indication of the sheer size of this discovery is the fact it contains 'fields' of giant doughnut-shaped mounds, some of which are almost 300 meters (1000ft) in diameter and 30 meters deep.
These mounds comprise an algae called Halimeda which help to create limestone when they fossilize. Given their superfast rate of growth limestone mounds, or bioherms, are left behind.
And, according to the researchers' report, these bioherms are breaking all the rules.
"Our analysis reveals that bioherm morphology does not conform to the previous model of parallel ridges and troughs, but is far more complex than previously thought," reads the report.
Earlier this year it was found that 93 per cent of the Great Barrier Reef had been damaged by coral bleaching as a result of global warming and Beaman is eager to discover what this new reef can tell us about past climate change in the nearby eco system.
He said: "What do the 10-20 meter thick sediments of the bioherms tell us about past climate and environmental change on the Great Barrier Reef over this 10,000 year time-scale? And, what is the finer-scale pattern of modern marine life found within and around the bioherms now that we understand their true shape?"
You can share this story on social media: