Burning Man festival celebrates its 30th birthday (PHOTOS, VIDEOS)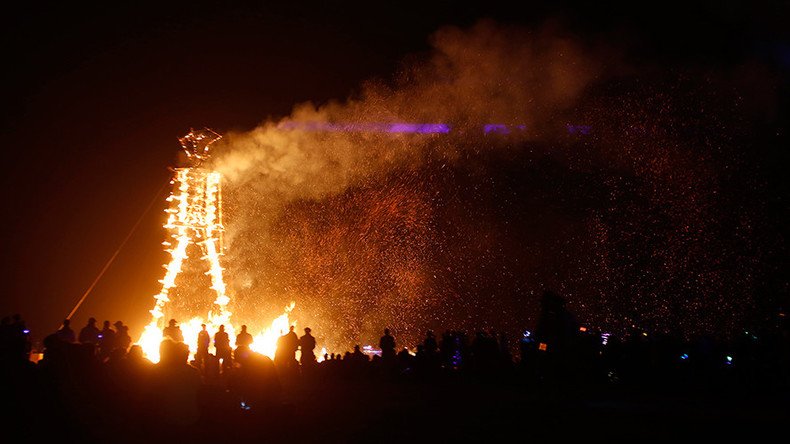 Around 75,000 are making their way to a Nevada desert for Burning Man 2016, a unique gathering of people from around the world celebrating community, art and self expression.
Running from August 28 through to September 5, people from all walks of life will gather at the 'Playa' in Nevada's Black Rock Desert to create a temporary wooden city which after a week there will be no trace of.
Thousands have already arrived at the site, but many more are still en route with vehicles of all shapes and sizes packed full of excited "Burners," as participants are known.
Not sure what to expect from #BurningMan, but I have a GPS watch, binoculars, an air conditioner... am I doing this right? #engineer

— Grant Imahara (@grantimahara) August 27, 2016
Burning Man has come a long way since its very humble beginnings on a beach in San Francisco in 1986 but at its core, nothing has really changed, although it's increasing growth is slowly eating into its noncommercial core with more wealth on display.
A week long escape like no other, with no vendors in sight, people exist in a sharing economy with no money exchanged, from food to drink and to their bodies and drugs too.
There are 10 principles though that are the essence of Burning Man, including radical Inclusion, decommodification, self-reliance, self-expression and communal effort.
"For many people, in day to day life our freedoms are quite restricted, sometimes very restricted, and our ability for self-expression is limited," said Stephen Joseph, psychology professor at Nottingham University.
"People spend the day in workplaces where quite often we have to hold our tongues, not say what we really think, keep going, do what we need to do."
"It can be very tiring and exhausting living a life day to day that feels quite inauthentic and that doesn't have that capacity for freedom and self-expression," added Joseph.
"Two people can go to Burning Man and have completely different experiences," says Reddit user ZorbaTHut. "My girlfriend and I went to Burning Man. We spent a lot of time looking at art, and exploring, and just sitting and watching life go past, and relaxing."
"Meanwhile, our neighbor spent the entire time dancing and having sex with people. He forgot to bring a tent, but it was okay because he rarely needed to sleep at home anyway."
With a very much free flowing vibe, how people spend their time at Black Rock City is entirely up to them but there will certainly be plenty of entertainment to soak up.
There's everything from the "Professional Worrying Service," to "Truth or Dare Jenga," "Bottoms Up Yoga" and the "Human Carcass Wash."
There's even a "Drinkity Kinkity Plinkity" event, although we're not sure what that is.
For those unable to make their way to Nevada and are now feeling a little jealous, there's a live stream of the festivities below.
Known by many for the lack of clothing by many Burners, there's no shortage of naked events. "Naked Sensual Body Painting," "Naked Philosophy," "Naked Pirate Shot Party," and "Party Naked and Get Lei'd," are just a handful mentioned on the event's website schedule, as well as a meeting of the "Sex Love Addicts Anonymous."
"If you leave Burning Man as the same person you were when you arrived, you can be confident that you've found who you are," says Reddit user ZorbaTHut.
READ MORE: FBI admits to spying on Burning Man
Culminating on Saturday night with the symbolic ritual burning of a large wooden effigy, everybody will then leave and head home, leaving no trace they were ever there.
You can share this story on social media: