Czech sushi restaurant faces €1.85mn fines for 'serving' carp captured in local river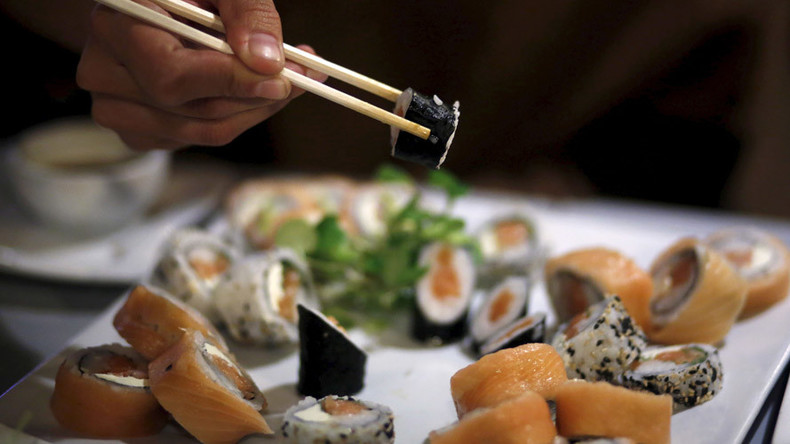 A sushi restaurant in Prague could be facing a fine of up to 50 million crowns (€1.85 million, $2 million) after it has been charged with illegally serving fish caught on the banks of a local river.
READ MORE: Lucky lobster! 1-in-2mn sapphire blue crustacean caught off Cape Cod
Inspectors stumbled upon the discovery after several locals were spotted fishing in the Vltava River. Only, the locals didn't appear to be fishing for fish, in fact they were filmed attempting to snare ducks in the water.
Municipal police carried out a routine check of the local licences required to fish in the river, and after the documentation checked out and they insisted the practice was merely a baiting tactic, one of the policemen noticed something.
READ MORE: Hook, line & member: Fisherman accidentally hooks naked swimmer's penis
One of the fishermen was dressed entirely in a chef's uniform, with a logo from the local Haru Sushi Bar.
Following a quick call to The Czech Agriculture and Food Inspection Authority (CAFIA),the officer discovered that, while fish caught in the river can be consumed, it cannot be sold for commercial use and a full inspection of the restaurant was carried out.
"Inspectors found the restaurant's freezer to contain bags of fish - probably carp - and fish guts that weighed a total of about 1.2kg,"said Pavel Kopriva, a spokesman for CAFIA to Novinky.cz.
READ MORE: Shell shock: Killer whale stuns tourists with Galapagos turtle attack (VIDEO)
"The food was not labeled. The operator also could not provide any accompanying documentation. For this reason, it was the food of unknown origin and on-site inspectors imposed a ban on the foods being sold," he added.
Haru Sushi Bar claims the fish was not intended for customers and was there to feed the staff.
"Carp is not offered on our menu, nor can you buy it from us,"said the restaurant's manager Patrick Tran. However, inspectors did not accept this explanation.