World's first self-driving taxis roll out in Singapore with millions of jobs under threat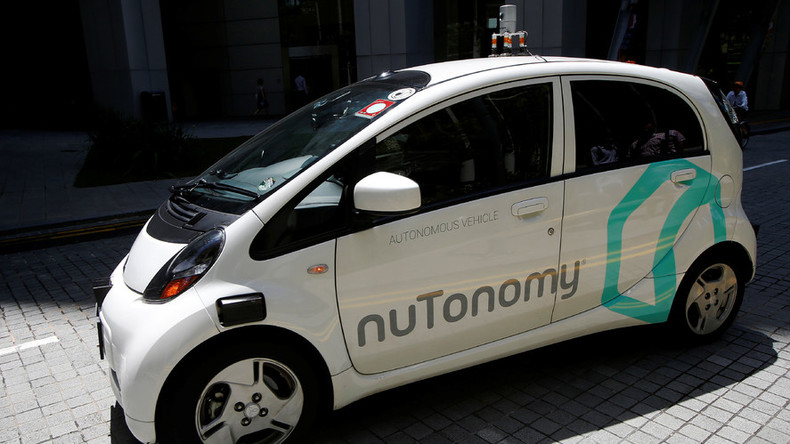 The world's first self-driving taxis took to the streets Thursday in the first phase of a project to help curb the number of cars on Singapore's congested roads - and potentially kill millions of jobs in the global transportation sector.
Selected members of the public will be able to use their smartphones to catch a free ride of the taxis operated by startup nuTonomy, making it the first company to provide such a service.
Google and Volvo have both been testing out self-driving cars in the last several years, but nuTonomy says it is the first company to offer rides to the public.
Uber is also due to launch a similar project in a few weeks with autonomous cars in Pittsburgh, AP reports.
The Singapore service initially starts with six cars and will expand to a dozen by the end of the year.
The startup aims to have a full fleet of self-driving taxis by 2018 and eventually expand the model to other cities across the world.
For the time being, the taxis cover a 2.5 sq mile area and is limited to specific locations.
Riders using the service are required to have an invitation from nuTonomy to use the service.
The cars, which are modified Renault Zoe and Mitsubishi i-MiEV electrics, still have a driver who can take over the wheel while a researcher sits in the back to monitor their computers.
Every car is fitted with a detection system that operates like a radar, along with two cameras on the dashboard to detect traffic lights and scan the road for obstacles.
READ MORE: Internet freaked over CCTV showing 'ghost' getting into taxi (VIDEO, POLL)
Chief operating officer Doug Parker said the taxis could potentially reduce the number of cars on the roads of Singapore from 900,000 to 300,000.
"When you are able to take that many cars off the road, it creates a lot of possibilities," Parker told AP. "I think it will change how people interact with the city going forward."
The future of robot-driven cars is causing concern and existential reflection among public transportation workers especially taxi drivers, with an anticipated impact on the unemployment rate and economy as a result.
As Richard Cohen points out in the Mercury News, "It's not the drivers who are getting rich. Something new and possibly awful is happening."
It's a catch-22 for many who look forward to reducing road accidents, traffic, and pollution, but also have sympathy for the future livelihoods of millions of people worldwide.
Beyond those who move humans around, the three million US truck drivers who deliver the goods also face 'displacement' by automation. And there's no guarantee they will find a new career or job that can replace their previous income.
A report by the Hamilton Project found: "Not all training programs are created equal. Training in more technically oriented fields such as math or science and training in healthcare fields have returns that almost offset the earnings losses of displaced workers. Returns were about $1,600 per year compared to only $800 per year for other training, on average."
The authors suggest "subsidizing the most beneficial programs," but ominously conclude that "training alone is unlikely to eliminate earnings losses entirely—in the long-run displaced workers will have to make changes to their standard of living to adjust."