Zombie rat gets revenge on annoying human (GRAPHIC VIDEO)
Published time: 24 Aug, 2016 23:09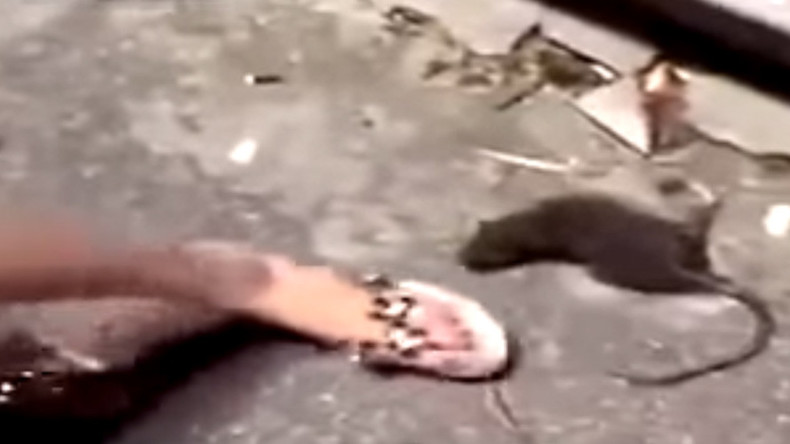 A half-dead rat managed to conjure up enough energy for one last stab at revenge. With the rodent left for dead in the gutter, the perpetrator of the rat's demise must have regretted teasing it that one last time.
Reportedly filmed in China, the video begins with a woman removing her foot from over a severely injured rat, sprawled on the ground alongside a gutter. She then moves her foot back to nudge his head but soon regrets her decision as the rat manages to clamp his teeth into the woman's skin.
The video then cuts to the woman in the hospital having her foot treated, with plenty of blood on both her and her sandal.
The rat's condition is unknown, we can only hope that wherever he is, he isn't being pestered by any giant feet.
In Nanning, in the south of China, the rat problem has become so big that car owners have dressed their cars in what have been dubbed "car maxi skirts," material that covers the base of their car preventing rats from crawling inside and damaging their engine.
Nanning is in the Guangxi province of China, which has a reputation for eating cat and dog meat and is home to the controversial Yulin dog-eating festival. Some residents have reportedly joked that if residents stopped eating cats, there might be no need for their "car maxi skirts."
READ MORE: Thousands of dogs, cats slaughtered during annual Chinese festival (VIDEO)