No seal, no deal: Orcas surround boat as seal takes refuge (VIDEO)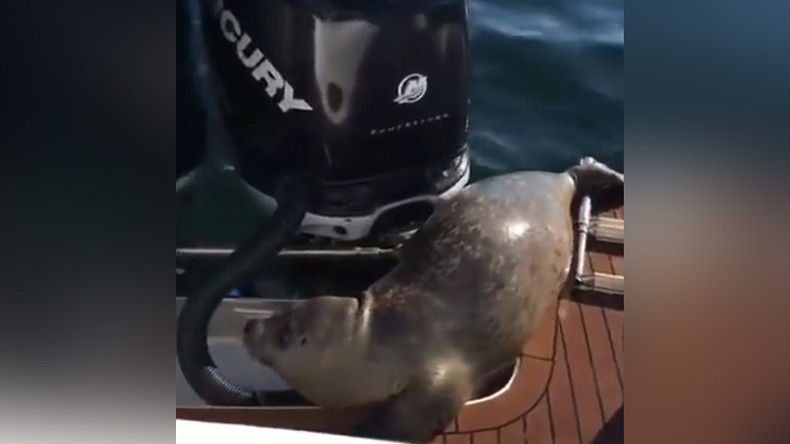 A very clever Canadian seal managed to escape a pod of orcas when it hid on board a tour boat. Sightseers were treated to an intense stakeout as the pod surrounded the boat in an effort to catch their prey off the coast of Vancouver Island.
Nick Templeman managed to capture the moment on his GoPro. At first one orca can be seen momentarily breaching as the seal cowers on the boat but when Templeman's camera goes underwater we can see the orca brought some friends with him.
Templeman runs Campbell River Whale and Bear Excursions and had some sightseers on board when the incident happened. The group had been watching the orcas for about 30 minutes before they turned into hunting mode, he told CBC.
"This seal was tossed around a few times and taken under quite a bit before seeking refuge among the boats in the area," Templeman said. A passenger on board managed to capture the moment the seal panicked as it came on board, telling the crew to "Get out of my flippin' way!"
The seal fell off the boat three times according to the passenger, with video showing the seal at one point taking refuge behind the boat's engine. The orcas gave up after waiting between 30 and 45 minutes, leaving the seal to swim safely away as he tells the camera "Seal ya later!"
Templeman said on Facebook that the seal's struggle was "Simply the most amazing struggle i have seen in 20 years."
Seals in the Vancouver area have been jumping on board a lot lately, with one kayaker becoming a seal Uber for this lazy guy.
If the seals are planning to move onshore they better beware, Vancouver is currently experiencing a property bubble. Home prices surged by 30 percent year-over-year as of June 2016, according to Financial Systems Review, but are now experiencing a sharp downturn.
The bursting of the bubble has seen the average price of a home in the city drop by 21.4 percent since the beginning of August, according to the Times Colonist. Our seal friend better think wisely about any investments before sealing the deal.