Giant 'Matryoshka from hell' gets Russian Olympic team stuck in Rio airport (PHOTO)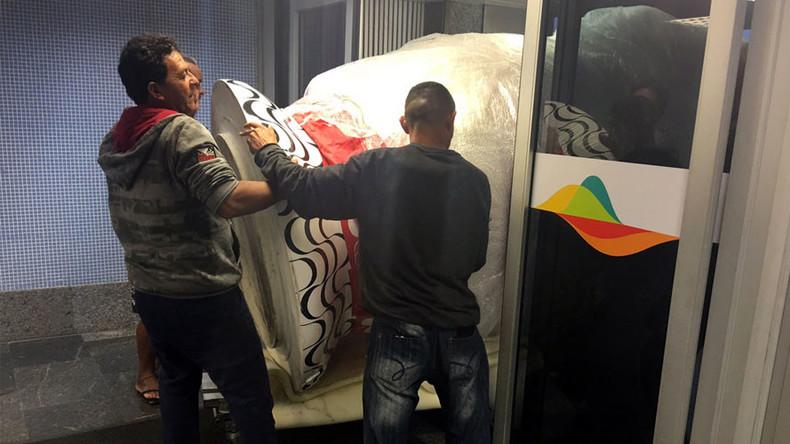 Poor weather conditions? Technical glitch? No! A huge Matryoshka doll stuck in the airport doors apparently delayed the Russian Olympic team's departure from Rio. The statue from the Russian fan house has even been dubbed the Matryoshka from hell.
The news that Russia's "Olympic flight" had been stuck in Rio de Janeiro–Galeão International Airport emerged on Tuesday morning. According to the official explanation given by Aeroflot, Russia's largest airline, to RIA Novosti, the airport was "overloaded."
"Due to the high workload of Rio de Janeiro airport, takeoff queues and low speed of luggage loading, the flights were delayed," the statement says.
However, social media had their ideas about the culprit behind the flight delay, concluding that it had been – a huge Russian Matryoshka doll.
A journalist from Sport Express newspaper posted a picture of a giant Matryoshka doll stuck in the airport doors in Rio. The doll had reportedly arrived with the Russian Olympic team and stayed at the Russian Olympic team fans house. It's not clear whether it had encountered the same problems upon arrival.
The picture shows helpless airport workers desperately trying to squeeze the huge doll through the airport doors – but it won't fit. The journalist even called the doll the "Matryoshka from hell," a nickname that was quickly picked by the Russian media.
"Russian Matryoshka from Russian Olympic team fans house got stuck in the airport doors. No one knows what to do with it," Dmitry Simonov from Sport Express wrote on Twitter.
Other pictures show the Matryoshka next to the plane allegedly carrying the Russian Olympic team.
The plane finally took off after a 4-hour 20-minute delay. However, the fate of the Matryoshka is as yet unclear – it is still unknown whether the giant doll took off with Russia's medalists or is still stuck in Rio.