7-yo girl hospitalized after being gored by bull during Spanish fiesta (VIDEO)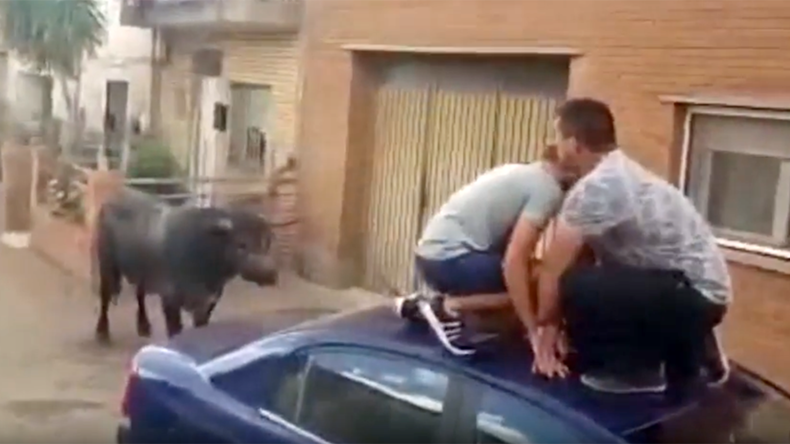 A 7-year-old girl is lucky to be alive after being gored by a bull which broke loose during a festival in a northeastern Spanish town.
The incident occurred on Monday when a bull broke through barriers during the annual bull run in the town of Alfamen, which is located near Zaragoza, the capital of Spain's Aragon region.
The child was struck by the bull, which hit her in the abdomen and buttocks. Fellow participants then tried to distract the bull, allowing the girl escape to safety underneath a nearby car until medical help arrived.
The girl was rushed to to the Children's Hospital in Zaragoza where she has remained in a serious but stable condition, reported La Vanguardia. Luckily, the bull's horns did not pierce any of the child's vital organs.
While all the necessary safety regulations had been followed, the bull still managed to break through a lock on the barrier, according to Alejandro Gil, the mayor of Alfamén, who described the incident as a "horrible," reported The Local.
Video footage uploaded to social media shows the moments that followed the attack. A number of men can be seen standing on top of cars in an attempt to escape the bull's wrath. Other men can also be seen trying to entice the bull through a gate into a more secure location.
Gil acknowledged that the girl's parents would be "perfectly within their rights" to lodge an official complaint against the local administration, adding that "the city is going to provide all necessary assistance."
The incident comes only a month after top Spanish bullfighter Victor Barrio was gored to death during a fight staged in Teruel, a town 140km south of Alfamen. He is the first person to have died at a bullring in the country this century.