'Caviar-wrestling models' at bankers' party sparks outrage (VIDEO)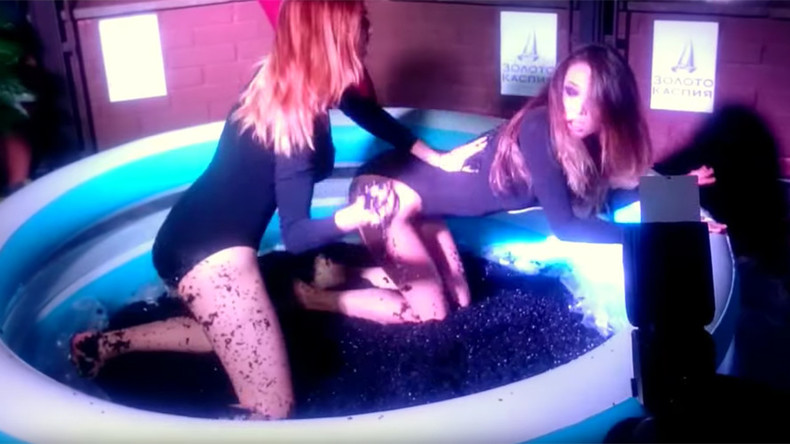 Social media users and Communist Party MPs lashed out at a party for Russia's top bankers and politicians – dedicated to the 700-year anniversary of the struggling rouble – in which two nubile models fought in a tub of what appeared to be black caviar.
The event was staged earlier in August in one of Moscow's top hotels by an NGO, with support from the Ministry of Culture, with the aim of recruiting sponsors for a huge charity ball in October. It will celebrate the anniversary of the Russian currency, which is first mentioned as a form of payment in writing in 1316, though may have been introduced earlier than that.
In what was a pre-party entertainment for the celebrity guests, 159 liters of caviar – exactly the same as a barrel of oil, which drives the Russian economy – was poured into an inflatable pool. Inside, two models – representing the euro and the US dollar – performed what appeared to be a choreographed play fight.
Over the past week, the video has made it onto social media, and has become a talking point.
"Bankers should service our needs, as they produce nothing, merely churning money earned with the effort of others. Yet our whole society is now built around banking," said Communist deputy Vyascheslav Tetekin in an official condemnation posted on his party's website. "Interest in this story shows that people are sick and tired of the fact that while people are getting poorer, bankers are still swimming in money."
The video has been watched around 100,000 times on YouTube, with five times more dislikes than likes, with comments divided between anti-government and anti-banker screeds, and unfavorable reviews of the models' wrestling performance.
Yet as well as lightning rod for criticism, the whole stunt may have been part of a viral campaign by a manufacturer of caviar, whose brand poster is visible in the background of the video.
And not necessarily an expensive one. 159 liters of black caviar would cost well over $1 million.
But according to Finparty, which covered the event, the caviar was actually a cheap, synthetic imitation. While still edible, 159 liters fake black caviar, made from cheaper roe or seaweed, would set the manufacturers back no more than several hundred dollars.
Thus both the stunt and the reaction that followed may have been much ado about very little – symbolic waste followed by clicktivist outrage.
In a farcical turn, many of the celebrities were not told about the provenance of the caviar, and were photographed scooping huge spoons of it onto their canapés straight from the inflatable pool, where the half-naked women lay minutes earlier.
You can share this story on social media: