Watch man surf giant puddle on Moscow's rainiest day ever (VIDEO)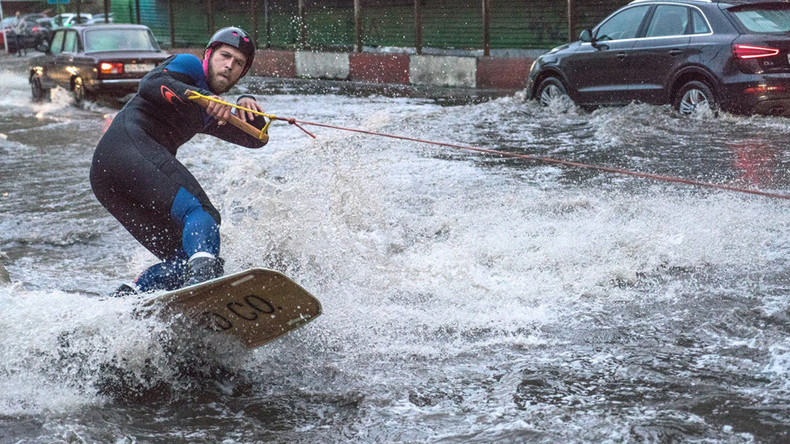 Thousands of Muscovites may have been literally waist-deep in water after heavy rains flooded parts of the Russian capital, but for two men this was an opportunity to cause mayhem.
Nikita Kantorov, the CEO of a wakeboarding park outside of Moscow, and Andrey Trukov, an advertising director, teamed up to surf through entire streets of a suburb of the city, in front of open-jawed (and occasionally cheering) observers.
"The idea came to me a long time ago," Kantorov told Maxim magazine. "But there was never heavy enough rain to make it reality – until now. I did not hesitate at all."
"I was thinking of going out drinking, but Nikita convinced me with a rock-solid argument: you can drink any day, but you only get a chance to do this literally once every 100 years. So, off we went."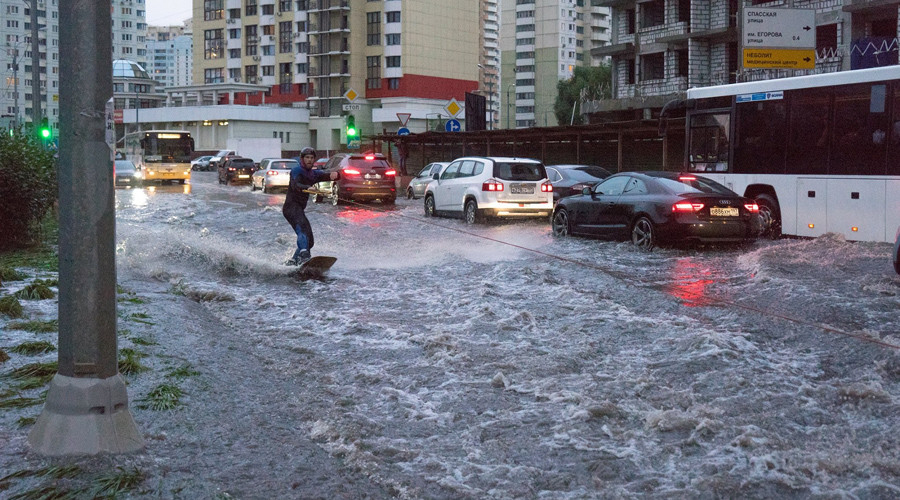 While overwhelmed municipal services and police might have been expected to remain unimpressed by the endeavor, this was not the case.
"The police themselves thought it was funny: they stopped by, burst out laughing, then just drove off."
Moscow's meteorological services said that 88mm of rain – about 3.5in – fell on Moscow on Tuesday, more than expected for the entirety of the month.
This is more than three times the previous record for August 15, set in 1887, and an inch more than the previous rainiest day ever in Moscow, recorded in 1970.
Despite the rarity of the event, and flash floods and stranded vehicles all over the city, there appear to have been no major injuries or instances of damage directly caused by the downpour.
In fact, with temperatures remaining high across western Russia by Wednesday, it was hard to tell it had rained at all.