Death row dolphins: Tourists frolic with sea mammals ahead of Japan's annual slaughter (VIDEO)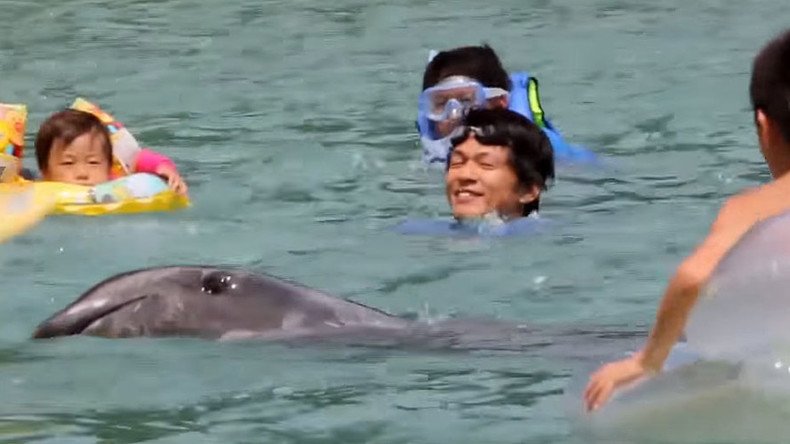 A sobering video shows tourists and children playing with dolphins in the sea at Taiji Cove, Japan, just two weeks before local fishermen begin their notorious six-month annual hunt in which hundreds of the mammals will be slaughtered.
The video recorded on Sunday shows playful scenes against a beautiful backdrop at the cove, which has become renowned for its blood soaked red sea during hunting season.
The dolphin hunt takes place in Taiji, Wakayama in Japan every year from September to March.
The event came into the international spotlight in 2009, after the release of the Oscar winning documentary The Cove, which included covert recordings of the dolphin killings. The hunters use spikes to sever the animals' spines, immobilizing and killing them.
READ MORE: 'Genitalia-eating human-toothed' fish pulled from Michigan lakes (PHOTO)
After the documentary's release, animal rights activists from all over the world traveled to Taiji to protest the hunt.
Local fishermen say the activity provides important income for local residents and the government claims the kills are part of Japanese culture. However, activists argue that the killings at Taiji did not begin until 1969.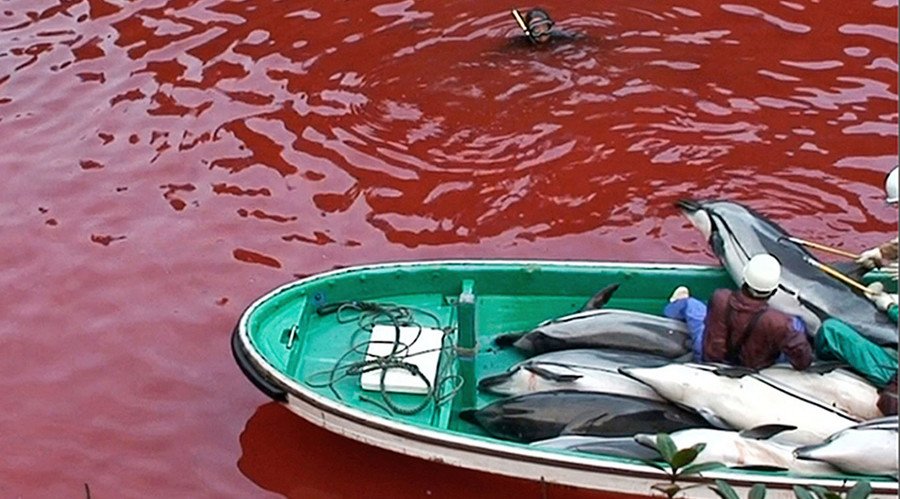 Ceta-Base, a non-profit organization that compiles statistics on the killings during each hunt season, has reported a drop in the number of slaughters over the past two terms.
Some 750 dolphins were killed in the 2014-2015 season, while this fell to 652 during 2015-2016 – a significant decrease from 1,600 kills recorded a decade earlier.
Not all of the dolphins captured as part of the hunt are slaughtered – some are sold to aquatic parks. Just one live dolphin can rake in $300,000, according to Dolphin Project, run by Ric O'Barry, the activist featured in The Cove. During the last hunt, 117 dolphins were taken as live captives.
The decrease in killings has been attributed to growing campaigns highlighting the dangers of mercury contaminated dolphin meat sold in Japan.
You can share this story on social media: