Watch mighty Russian lady pull 8.6-tonne chopper (VIDEO)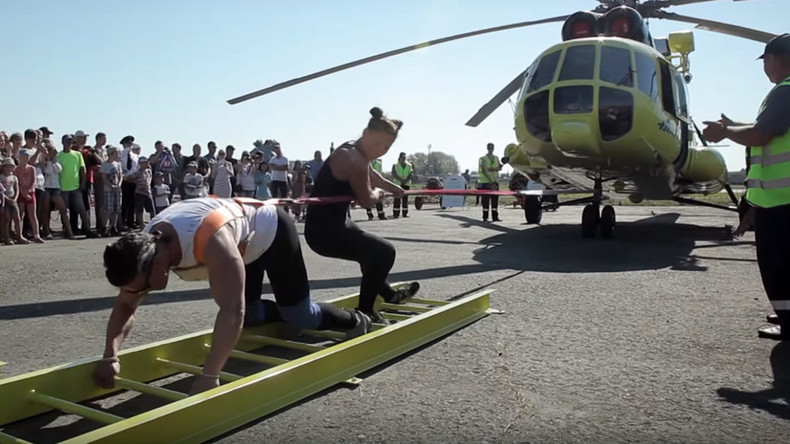 The world knows that Russians can be tough. However, this Siberian lady may be just a little tougher than you think. Watch how she pulls an 8.6-metric-ton helicopter at an air show in Tyumen.
Thirty-three-year-old Oksana Kosheleva from the Siberian city of Irkutsk managed to move and pull the Mi-8 a few meters along the tarmac, amazing the onlooking crowd.
It was the first aircraft that the powerlifter has moved.
"To be honest, I understood how to move legs [in order to pull the chopper] only today. I am still learning and each time for us is a new lesson. Every time we improve it because it is not written in the books," Kosheleva told RT's Ruptly news agency.
"It's very difficult, very hard to do, and we're ready for difficulties and trouble, and new knowledge. Each time it's different," she added.
Witnesses told local media that at first it was quite hard, indeed, for the athlete to pull the chopper, especially due to the very sunny and hot weather.
This is not the first time Kosheleva has moved a means of transport, though: she also managed to pull along a 17-metric-ton tram and, in 2014, a 10-metric-ton truck.
Guess what was the "easiest" haul?
"The railway wagon, it's like cheese rolling on butter," she said. "Here, it's asphalt; it's hard."