Base jumper feared dead after Norwegian stunt goes awry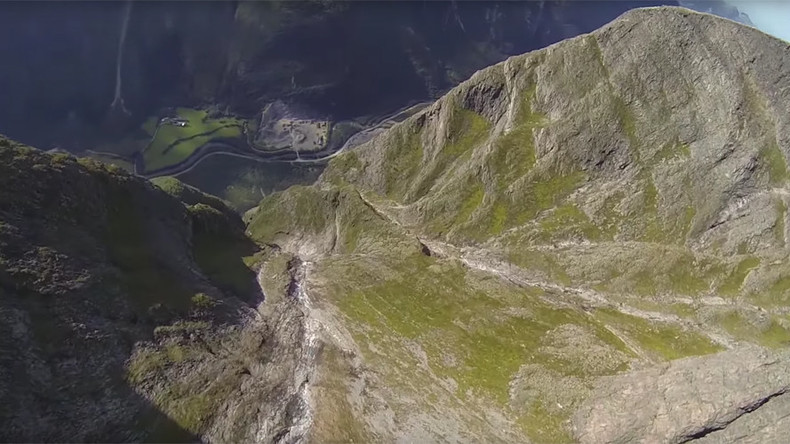 A base jumper who leapt from Hårstadnebba in western Norway on Thursday is highly unlikely to have survived, according to local police.
Authorities know his identity and have even located his position on the mountain, at a height of 1,300 meters (4,265ft), but are not yet able to reach and recover him. A plan to reach him is being made Friday.
"It is difficult to put people in there. There are vertical steep walls, and the mission is dangerous," said Western Police operations leader Torry Aakenes.
Sunndal: Basehopperen er funnet i fjellsiden. Ikke mulig å hente han ut i natt på grunn av vær og terreng. Blir et krevende oppdrag.

— Politiet i M&R - N&R (@PolitiNoRoOps) August 11, 2016
Alf Stormo of the Møre and Romsdal police admitted the man is "presumed dead". Another individual who made the jump alongside the missing man on Thursday evening is reported to have survived and raised the alarm, according to The Local.
The sport of base jumping claimed at least 25 lives in 2015 according to records maintained by the BASE Jumping project and Norway has seen two fatalities from the activity in the last six weeks.
Some sad news. Michael Lemming, a skilled, well-respected + beloved PMR rescuer since 2000, has died in a BASE jumping accident in Norway.

— Portland Mtn Rescue (@PDXMtnRescue) June 26, 2016
Former Nike talent scout Michael Leming died when his parachute failed to open during a jump at Lysebotn Fjord at the end of June while just last week the body of a man in his 30s was recovered at 1,000 meters following an ill-fated jump in the same region as the latest accident.
These youtube clips of base jumpers on Hårstadnebba show quite how scary and dangerous this pastime can be.