Mars opposition: 10 stunning images that reveal diverse textures of red planet's surface (PHOTOS)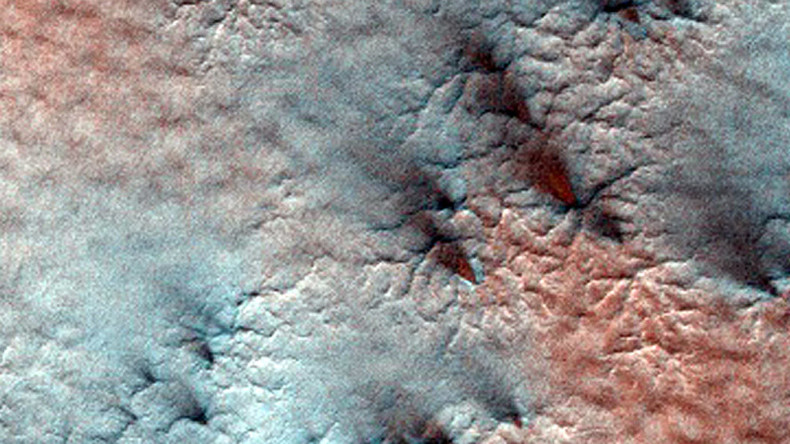 NASA's Mars Reconnaissance Orbiter has been astounding astronomy lovers with high resolution images of the Red Planet since it began circling the planet in 2005 but its latest batch of more than 1000 images taken during "opposition" are particularly spectacular.
The massive collection of satellite images taken by the onboard HiRISE camera were beamed back by the MRO showcasing the latest examples of Mars' diverse topography.
The photos snapped in May during "Mars opposition" - when the Sun and Mars are on directly opposite sides of earth, also capture the red planet in some unique lighting.
Communications between Mars and Earth were also improved thanks to the "opposition", enabling the easy transmission of a vast quantity of data,
This information is pivotal for NASA in determining possible landing sites for future exploration missions notably the NASA rover due to launch in 2020.
Here is just a taster of ten of the most incredible painting like snaps of Mars' stunning textures and colours.
Dune Field with Bright Fans

Atlantis Chaos

Terrain Near Peneus Patera

Small Tributary Deposit and Transverse Aeolian Ridges in Nirgal Vallis

Gullies in Dunes Dubbed Kolhar

Candidate Landing Site for 2020 Mission in Kashira Crater

Crater Northeast of Hellas Planitia with Phyllosilicates

Possible Phyllosilicates in Ejecta of Small Crater in Tyrrhena Terra

Northern Plains Terrain Sample

Southern Highland Valleys

The full collection can be viewed on the HiRISE website.