'Let her live': Twitter reacts to Malia Obama's apparent weed smoking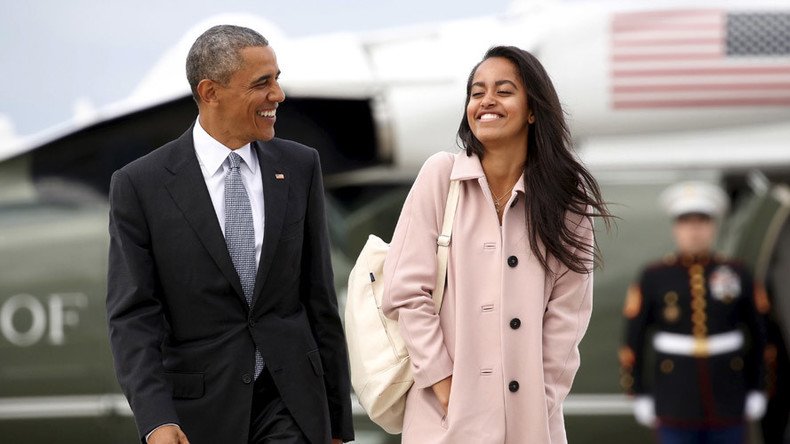 Footage of President Barack Obama's daughter Malia Obama seemingly smoking what could be a joint has set the internet alight.
The social media reaction has been a mix of the predictable, the hilarious and the obvious attempts at political point scoring.
Perhaps the most interesting thing about the reactions is the number of people saying, "Who cares?" and expressing sympathy for the 18-year-old.
But first, some of the best.
As the story began to gain traction, many were quick to point to other children of presidents and presidential candidates and their actions, managing to put Malia's sneaky smoke into perspective.
Then there were the not-so-great mistakes made by presidents themselves.
A few were quick to point to the fact that Malia is headed to Harvard, suggesting she can't be that much of a pothead.
Some said if she was the daughter of a Republican president, people would react differently.
So all you people saying "no big deal" about Malia Obama smoking pot were saying the same thing about Jenna Bush drinking underage, right?

— Chris Estep (@Estep) August 10, 2016
Reminder, if you defend Malia Obama and not Clinton's or Trump's kids, y'all a bunch of hypocrites no matter which party you're on.

— Jack The King Ophe (@BlackIceSheep) August 10, 2016
For some, the vision of a president's daughter possibly smoking weed was an affront, given her father's role as president and the drug prosecutions and incarcerations that go on under his presidency.
Others were baffled at the outrage considering Donald Trump's recent suggestions about "Second Amendment people" stopping his rival Hillary Clinton.
Many were angry at the girl who shared the video, expressing sympathy for Malia.
A huge number of tweets were supportive of the president's daughter, pointing to the fact that she is an 18-year-old, doing something that many young people do, and that marijuana is legal or decriminalized in many states.
In the end of July, Illinois governor Bruce Rauner signed bill, removing criminal penalties for those found in possession of 10 grams or less. This means that Malia is legally off the hook. It's unclear if she will be scolded by her father: Obama himself admitted to smoking pot when young.
You can share this story on social media: