Secret ingredient: Humanity… Italian cops cook pasta for crying elderly couple (PHOTOS)
Published time: 9 Aug, 2016 10:28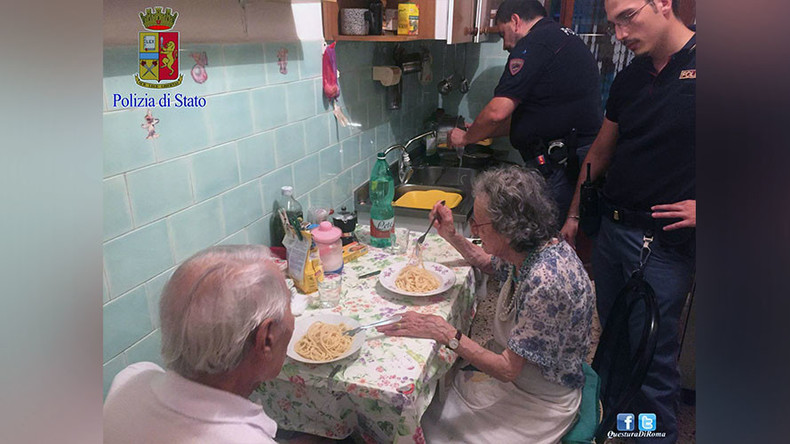 Kind-hearted officers in Rome responding to an unusual call reporting a crying elderly couple ended up cooking a meal and having a chat with the pair, after discovering they had not been the victims of crime, but overwhelmed by loneliness and sadness.
Neighbors of 89-year-old Jole and 94-year-old Michele heard the old couple shouting and crying. They called the police assuming that the couple had fallen victim to some crime.
But, as it turned out, Jole and Michele, who have been married nearly 70 years, were just lonely. The couple explained to police that after watching TV news programs about poor children and attacks across the globe, Jole had broken into tears and the emotions then overwhelmed her husband.
"It is not always an easy life. Especially when the city is empty and the neighbors are away on vacation. Sometimes the loneliness melts into tears. Sometimes it's like a summer storm. It comes suddenly and overtakes one," police said in a statement posted on Facebook.
So three warm-hearted officers – Alessandro, Ernesto, and Mirko – decided to cheer the couple up and prepare a hot meal for them. "Just a little human warmth will restore peace to Jole and Michele," police wrote.
"They asked for permission to access the pantry… Improvise a little dinner. A bowl of pasta with butter and cheese. Nothing special. But with a precious ingredient: inside it is humanity."
"For the boys, there is a more daunting task – two lonely souls who need reassuring," police said.
"Jole and Michele, they love each other. But when the loneliness is a burden on the heart, it may happen that they lose hope," they added.
The Facebook post has been shared over 25,000 times and liked by some 66,000 users so far.
"God bless the officers and this couple," one user wrote, while another added: "The elderly deserve respect. Bravo to the police who responded. Very sweet."
"Congratulations for your great humanity," "his was a truly kind act," "LOVE you guys and I Hope that one of you still continues to keep an eye over this couple," said other users touched by the story.