Story of breastfeeding mother accused of 'squirting' milk baffles internet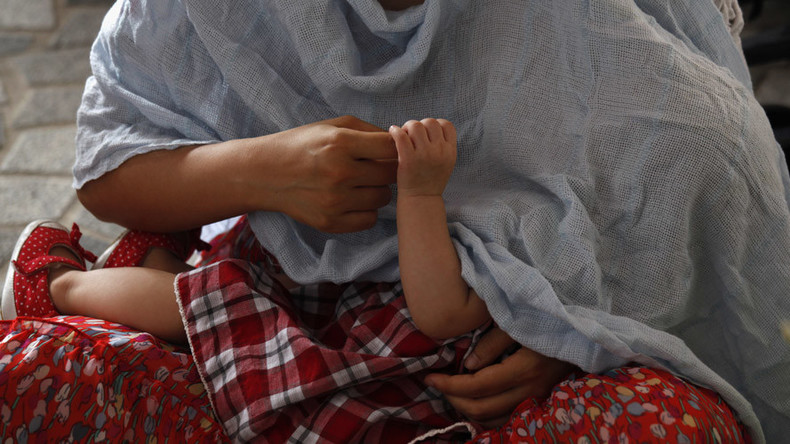 The story of a breastfeeding mother in the UK that was accused of "squirting" a woman with her milk after being asked to move to somewhere private has left internet users confused as to whether it is real or a hoax.
The incident allegedly happened in a Kent park after the woman's husband became "very easily distracted".
An anonymous complaint was posted to a Dartford social media page used for community communications addressed to the woman "who thought it was appropriate to breastfeed her baby whilst my child and very easily distracted husband sat near by."
After being asked to move by the irate woman, the breastfeeding mother is accused of squirting the woman with milk and cursing at her. "Telling me to f*ck off and squirting me with your boobs was incredibly uncalled for. I hope you are ashamed of yourself!" the forum user claims.
Breastfeeding is protected under UK law and it is illegal to ask a mother to leave cafes, shops or any public place while feeding.
According to the NHS, surveys show that the majority of people don't have an issue with women breastfeeding in public. "The more it's done, the more normal it will become," the NHS mentioned.
Reaction to the post online gave support to the breastfeeding mother.
"Breastfeeding is the most natural thing and when a little baby is hungry, mum should be able to feed it without the distraction of idiots," one commenter said.
"There's only one person here making a right tit of themselves and its not the lady doing the most natural thing in the world!!!" wrote another user.
Some commenters did believe that squirting the woman with milk was an excessive reaction, but the breastfeeding mother was entitled to be angry after being asked to move.
Last week, World Breastfeeding Week 2016 was celebrated around the world, aimed at raising awareness and promoting breastfeeding. Two thousand women gathered at a Bogota park in Colombia to breastfeed as part of the event.
The story has created some healthy debate on the issue despite allegedly being a hoax. One Facebook user has claimed he planted the story in an effort to go viral.