Carmageddon: 422 vehicles destroyed by inferno at Portuguese music festival (PHOTOS, VIDEO)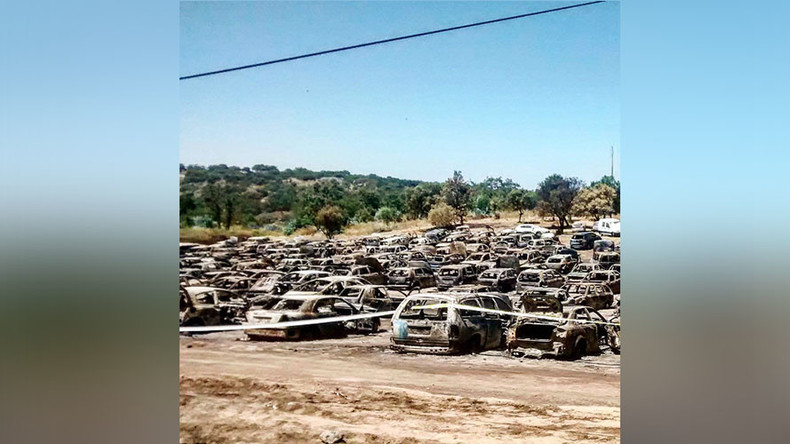 An outdoor music festival in Portugal had to be suspended after a raging fire turned two parking lots into an apocalyptic scene of charred and twisted metal.
According to organizers of the week-long Andancas festival, the concert grounds underwent a "rapid" evacuation on Wednesday when a mystery blaze spread to hundreds of revelers' cars.
Some 422 vehicles were completely destroyed in the fire which broke out around 3pm, reports Lisbon-based newspaper Publico.
Almost 200 officers from the National Civil Protection Authority and local firefighting units raced to the festival at Serra de Sao Mamede natural park to tackle the inferno.
By 4pm the fire was brought under control and investigators believe it started in a parked car before sweeping through surrounding bush land.
No serious injuries were reported and the official Andancas Facebook page has since confirmed that the music and dance festival will continue as planned.
Footage of the moment hundreds of vehicles went up in smoke has been posted online by eyewitnesses. It shows firefighters tackling the blaze as flames lick the surrounding parked cars.
Images have also emerged showing thousands of worried festival patrons fleeing the area while black smoke engulfs parts of the event site.
The Andancas festival has taken place every year since 1996 and has a capacity of 40,000 people. Event management has thanked the public and fire services for their assistance during the emergency.