Miss Teen USA under fire for racist tweets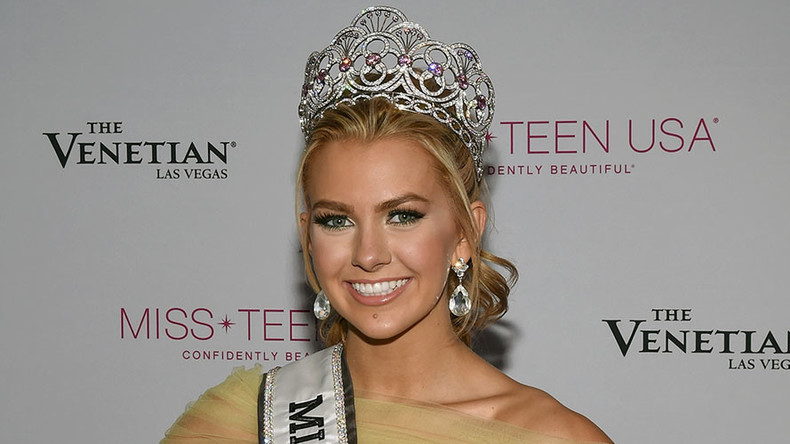 The new Miss Teen USA is facing a backlash for using a racial slur on social media. Karlie Hay was discovered to have a penchant for repeatedly dropping the N-word into tweets shortly after being crowned the winner in Las Vegas on Saturday night.
The discovery created a firestorm online, with some calling for her expulsion from a contest that has already received criticism for its lack of diversity.
People were quick to point out that all of the finalists looked almost exactly same - from their blonde hair, blue eyes and white skin, to their similar facial features.
Hay, from Texas, later released an explanation on Twitter, claiming she wasn't proud of her use of such language, and that she had changed as a person.
"Several years ago, I had many personal struggles and found myself in a place that is not representative of who I am as a person. I admit that I have used language publicly in the past which I am not proud of and that there is no excuse for," she said.
"Through hard work, education and thanks in large part to the sisterhood that I have come to know through pageants, I am proud to say that I am today a better person," she added. "I am honored to hold this title and I will use this platform to promote the values of The Miss Universe Organization, and my own, that recognize the confidence, beauty and perseverance of all women."
The Twitter account where she posted the controversial tweets has since been made private.
While the pageant hoped to receive positive coverage due to its decision to pull the bikini swimsuit section (and replace it with a similarly revealing athletic wear section), Hay's offensive tweets have caused the contest to come under fire, with people calling for the organization to take action.
"The language Karlie Hay used is unacceptable at any age and in no way reflects the values of The Miss Universe Organization," the pageant organizers said in a statement to Mic. "As Karlie stated, she was in a different place in her life and made a serious mistake she regrets and for which she sincerely apologizes."
Many other pageant winners have been stripped of their crowns over the years following controversy.
Last week, Miss Florida was stripped of her crown for failing to use a makeup artist that was affiliated with the contest. In 2008, Miss Teen Louisiana lost her crown for running out on a restaurant bill and leaving a bag of marijuana behind, Yahoo reports. Other beauty queens have lost their crowns for nude photographs.