Sikh man wrongly identified as France terror suspect...for the second time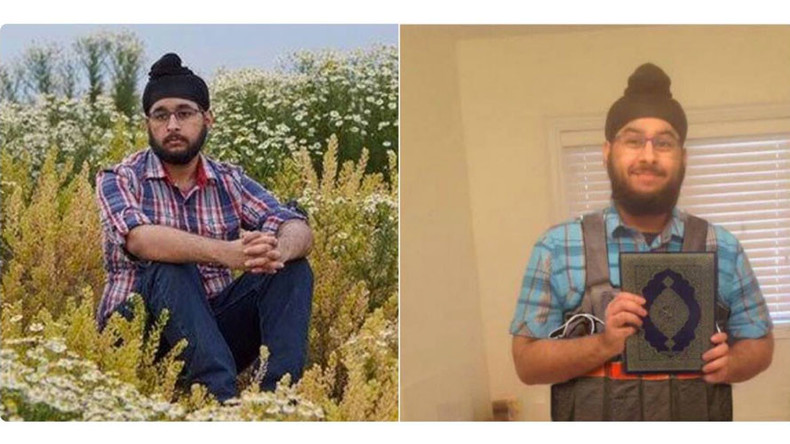 A Sikh man wrongly identified as being involved in the Nice attack was also mistaken for a terrorist from the November Paris attacks.
Veerender Jubbal, a freelance journalist living in Canada, was the target of online hate after a photoshopped version of his photograph portraying him in a suicide vest and holding the Koran was circulated online in the wake of November's attacks in Paris.
People are editing, and photoshopping my selfies as if I am one of the people causing the issues/problems in Paris.

— Veerender Jubbal (@Veeren_Jubbal) November 14, 2015
I hope everyone has caught up with what is going on with me.

I went viral due to a photoshopped image claiming I am a terrorist.

— Veerender Jubbal (@Veeren_Jubbal) November 15, 2015
Now, Jubbal's photograph has been making the rounds again, this time in tweets wrongly accusing him of involvement in the truck attack in Nice that killed 84 people and left more than 100 injured.
@OfficialSamHyde That's a photo-shopped picture that has been used countless times during attacks. Stop propagating false hatred.

— Alexander Hamilton (@ADHamilton91) July 14, 2016
Jubbal said he had feared for his life following the first trolling and received a death threat, which affected his anxiety and depression. He told the Guardian that after the Brussels attack in March, people continued to share the image and send him tweets.
This time, Twitter users were quick to report users circulating the image and their accounts were suspended.
How stupid are people that they would fall for the lie again? He's Sikh. Even if he were Muslim, we should not falsely condemn anyone

— Tanya D. ~ Horns Up (@cypheroftyr) July 15, 2016
"While the past 48 hours have been deeply disturbing on a personal level, the broader impact of this image going viral for the Sikh community is what upsets me the most," he said in a November statement.
"Sikhs continue to be mistakenly and offensively associated with terrorist networks abroad. The Sikh community has faced significant violence and discrimination following major terrorist attacks because of our religious appearance. We must be better than this."
Read more: Sikh store clerk mistaken for Muslim called 'terrorist' & shot in face by robber

Unfortunately, Jabbal's not the only case of mistaken identity in the chaos that follows a terror attack. In some cases, it's the police who wrongly identify suspects, leaving the door open for trolling and abuse long after the real culprits have been caught.
When last week's Dallas shooting took place, photographs of a man said to be involved in the shooting spread across social media after police urged the public to help find him.
Mark Hughes turned out to be a protestor at the event who happened to be carrying his rifle, as Texas is an open carry state. Hughes also received death threats and was surrounded by white supremacists.
Mark was with family and the white supremacists literally surrounded them in the hotel lobby. They had to run for their cars to escape.

— Shaun King (@ShaunKing) 10 July 2016
Hughes handed himself in to the police, and later asked for an apology.
Following the Boston marathon bombs in 2013, images of the suspects were shared by police. Social media users quickly misidentified one of the suspects as Sunil Tripathi, who had been missing for about a month at the time.
The accusation spread online, and news organizations ran with it. Tripathi's family were forced to deal with a barrage of hate and harassment. Days later, his body was found in the river; he had committed suicide a month earlier.