Electronic 'magic' marker creates illuminated 3D city from mere drawings (VIDEO)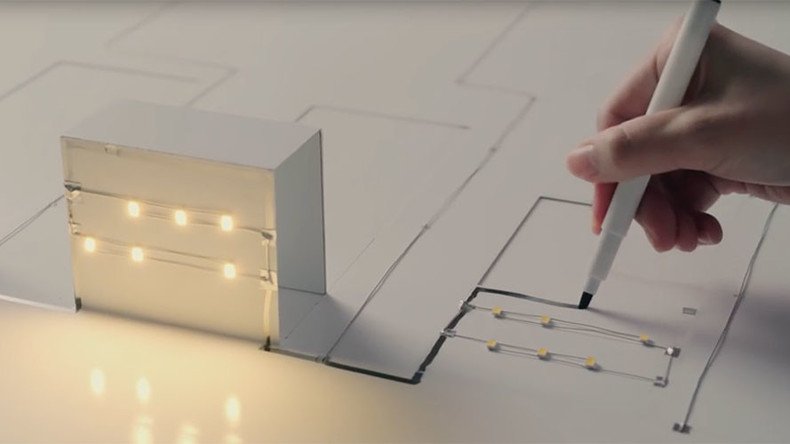 A mesmerizing video released by a Japanese company shows a 3D city of miniatures come to life thanks to a 'magic' marker which contains electricity-conducting ink.
Infrastructure firm Kandenko posted the video entitled Future with bright lights to demonstrate the sheer awesomeness of the electronic circuit pen created by fellow Japanese company AgIC.
The Tokyo-based startup develops circuit printing systems and goes by the motto 'embed electronics into everything in the planet with printed electronics technology'.
The promotional video shows the AgIC pen in action, immediately conducting electricity over paper and lighting up an incredible pop up cityscape.
The system works by placing an LED light and battery on special paper, the marker which contains silver to make the ink conductive connects to the light and battery when a line is drawn, turning the paper into an electric circuit.
The video shows this process starting with a simple sheet and ending with a brightly-lit paper city consisting of a hospital, a tower, windmills and WiFi.
The creators of the ad took inspiration from children's pop-up books to bring their imaginations to life, according to Rocket News 24.
AgIC won the TechCrunch Tokyo startup contest in 2014 and hope to develop their technology further to install electric circuits with sensors on wallpaper in the future.
CEO Shinya Shimizu previously told The Japan Times that this could help monitor elderly people living alone as the walls would sense their movements.
You can share this story on social media: