Chinese girl who learned to dance with no legs becomes national inspiration (VIDEO)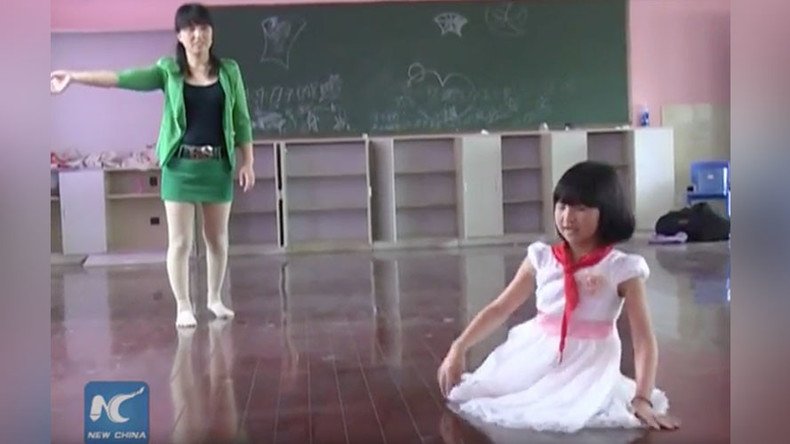 An 11-year-old girl, who lost both of her legs in a devastating accident, has become a viral sensation for her graceful dance routines.
In October 2010, Jiang Zhangziyi, or Ziyi as she is known to family and friends, had both of her legs amputated following a horrific traffic accident in which the lower half of her body was crushed.
"I was so beside myself that I even contemplated suicide," said Ziyi's mother Zhang Shuixiang, from Shangrao in east China's Jiangxi province, to Xinhua.
"She was only six years old, she had only been walking for a few years," Zhang recalled.
However, Ziyi surprised her mother with her unwavering resilience and determination. Soon, Ziyi had learned to walk on what was left of her legs and four years ago decided she wanted to learn how to dance, refusing to accept her body's new limitations.
"I still have hands, and you can help me," said Ziyi to her mother. "Let's dance together."
At first, Ziyi and Zhang found it difficult to find a dance teacher that was willing to take on the challenge, "I understood, after all, it is not like teaching an able-bodied person," said Zhang. Eventually they found Ye Xiaofang, who offered to give Ziyi dance lessons for free.
READ MORE: Chinese man sheds 66lbs by carrying boulder on head (VIDEO)
Ziyi initially struggled to dance on her limbs, often fighting painful friction and frustrating imbalance when learning new routines.
"It was difficult at first, and painful, but I like dancing. If you really want to do something, you just have to carry on," said Ziyi.
However by 2013, Ziyi had become confident in her abilities and, when her father entered her into a children's dancing contest in Shangrao, she won.
Ziyi has a strong presence on China's version of Twitter, Weibo, and is often inundated with comments from adoring fans who hail the little girl as an inspiration.
A movie about Ziyi's story, called the Dream of Heaven, debuted at Shanghai International Film Festival, and will be shown nationwide this summer.
You can share this story on social media: