Mass orchestra snares world record with 7,500 instrument performance (VIDEO)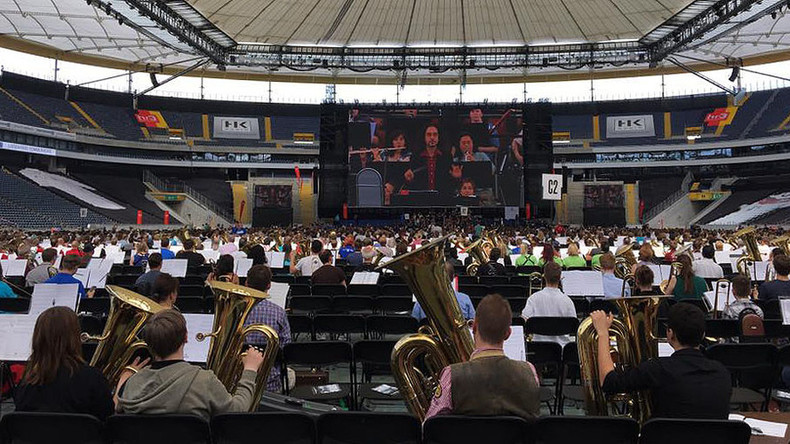 An orchestra in Germany has smashed the world record for being the largest musical ensemble on the planet in a performance which involved more than 7,500 musicians and instruments.
The group of virtuoso performers went out on a high note on Saturday, achieving perfect pitch at the Commerzbank Arena stadium in Frankfurt.
Normally the domain for screaming Bundesliga soccer fans, the 51,500 seater stadium was transformed into a hive of orchestral sounds for one night only.
Led by Hamburg conductor Wolf Kerschek, the orchestra was made up of 7,548 musicians performing pieces by the likes of Beethoven and Czech composer Antonin Dvorak.
Complete with brass, woodwinds and string sections, the orchestra blew away an Australian record from 2013 which saw 7,224 musicians perform together at the Queensland Music Festival.
Ahead of the attempt Kerschek described how he had never heard anything like the sound of a mass orchestra before. He said the record was an attempt to get more people interested in music.
"This dedication, to share this with so many people, I think it is a very, very important statement," he said.
The Record Institute of Germany has officially recognised the incredible music feat by congratulating the thousands of musicians who took part.