Walking, talking nude gallery raises eyebrows on NYC Bodypainting Day (PHOTOS)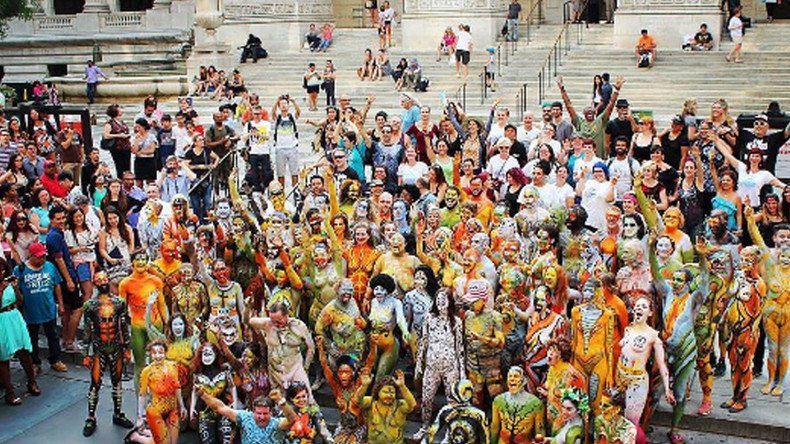 A New York plaza was turned into a naked art gallery on Saturday as 100 nude models disrobed and were painted by a legion of artists to promote freedom of expression and body acceptance.
The 'cheeky' art project, part of NYC Bodypainting Day, saw the human form used as a colorful canvas, with volunteers getting their kit off in public at Dag Hammarskjold Plaza.
Passersby were given an eyeful when some 100 nude models of all shapes and sizes undressed on the Manhattan street and proceeded to be covered in an array of quirky, vibrant patterns.
This year's event focused on the theme of 'inner beauty' and asked artists to "draw inspiration from their model's energy and character as they create their art."
"Bodypainting Day gives models the opportunity to embrace themselves and to use their bodies to become living art. Unlike what people might expect from a body painting event, the models are ordinary people, ranging in age, size and gender," according to the event's website.
"By holding the event as a full nude event, we remove the shame often associated with our bodies and show the distinction between nudity and sexuality," it adds.
It took a total of four hours for the artists to apply the finishing brush touches to their carefree models, who were then paraded through the streets on a double decker bus.
New York has now hosted three of the bodypainting events, set up by artist Andy Golub.
Golub was once arrested alongside model Zoe West for naked bodypainting in Time Square, despite artistic nudity being legal in the city, according to the Associated Press.
West subsequently sued the city for wrongful arrest and settled on a compensation deal reported to be $15,000.
West's lawyer, Ron Kuby, later joked about the arresting officers, telling the NY Post: "Given the police idiocy, one wonders where the boobs really are."
Since its inaugural showcase, Bodypainting Day has expanded to Amsterdam and San Francisco.
Andy Golub has also confirmed that a date for the event is due to be announced for Brussels on Facebook.
You can share this story on social media: