Tesla's Autopilot back in spotlight as 2nd self-driving crash reported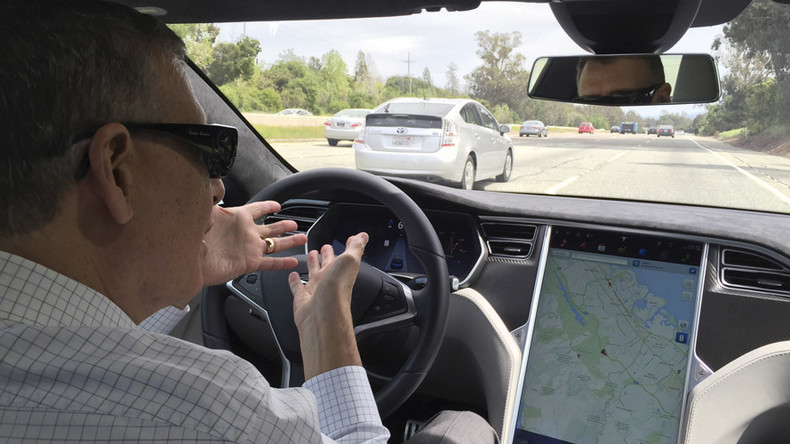 Self-driving cars have taken another blow after a second accident allegedly involving Tesla's Autopilot mode was reported. The crash in Michigan comes a week after federal officials announced a probe into a fatality involving the Autopilot feature.
Albert Scaglione and his son-in-law Tim Yanke both survived the crash when their Tesla Model X, which they claim was in self-driving mode, crashed and overturned on the Pennsylvania turnpike. Tesla are disputing Scaglione's claims, telling WXYZ that they received no information to show that Autopilot was activated at the time of the crash.
"We received an automated alert from this vehicle on July 1 indicating airbag deployment, but logs containing detailed information on the state of the vehicle controls at the time of the collision were never received," Tesla said in an email, adding that they had attempted to contact Scaglione three times but failed.
"Based on the information we have now, we have no reason to believe that Autopilot had anything to do with this accident" they said.
The National Highway Traffic Safety Administration have opened an investigation into the accident. In a statement they said that they would "determine whether automated functions were in use at the time of the crash."
Tesla are currently under investigation over a fatal crash in 2015 in which an Ohio man was killed while driving a Tesla Model S in Autopilot. Joshua Brown died when the vehicle continued driving as a tractor-trailer crossed the highway in front of him. The top of Brown's car was completely ripped off in the fatal accident.
READ MORE: Federal gov't opens investigation into first known Tesla Autopilot fatality
In a blog post Tesla claimed the Autopilot did not engage the brake because it could not distinguish between the brightly lit sky and tractor trailer.
The driver of the tractor-trailer told AP that Brown was watching a film in the car when the crash happened. Florida Highway Patrol confirmed that they found a portable DVD player in the vehicle.
Autopilot is currently in its "public beta phase," and customers must acknowledge that before they can use the system. They are also expected to keep their hands on the wheel while it is engaged, as well as to "maintain control and responsibility" for their vehicles.
"Autopilot is getting better all the time, but it is not perfect and still requires the driver to remain alert," Tesla said. "Nonetheless, when used in conjunction with driver oversight, the data is unequivocal that Autopilot reduces driver workload and results in a statistically significant improvement in safety when compared to purely manual driving."