Niiice! Totally Borat moment in Kazakhstan as fiancée proves strength by carrying fridge (VIDEO)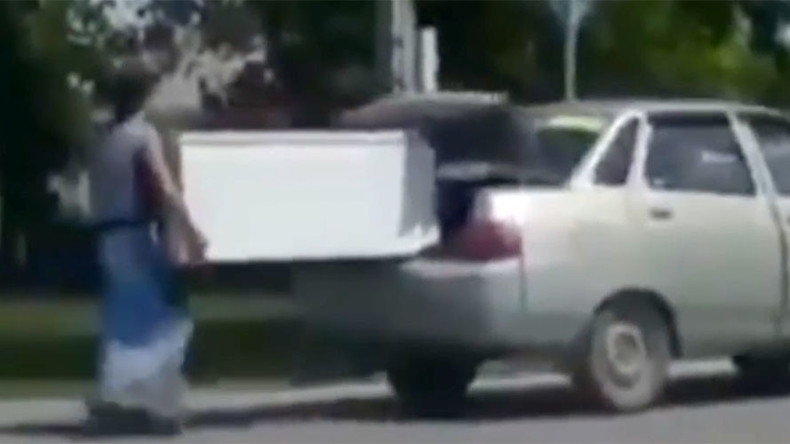 'This is my soon-to-be wife. She's very niiice. So niiice that she carries refrigerator hanging out of car while I driiive it.'
In a scene straight out of Borat, video footage of a man and woman in Kazakhstan has led to some, shall we say, confusion... and a few chuckles.
The woman is seen holding the fridge hanging out of the trunk, while a man drives down a street.
Sacha Baron Cohen's politically-incorrect Kazakh alter-ego Borat is an outrageous 'reporter' cracking jokes about rape, incest, and prostitution.
In the film, Borat was shocked to learn that women in the US had been allowed to drive.
It's worth noting that women in Kazakhstan can, in fact, drive, prompting some to ask why'd she get stuck 'holding the bag,' or in this case, the giant appliance.
The video was uploaded online with the title: "Kelinka from Kazakhstan carrying a fridge behind the car."
'Kelinka' reportedly refers to a "multitalented fiancee."
READ MORE: Men work 42 minutes more per day than women, US study finds
This moment kicked off a spirited debate online in the ongoing battle of the sexes, including the comments section below, as to whether this is proof women are just as capable of carrying out manual labor, she's marrying a man who would let his soon-to-be wife carry the burden, or she just wanted the exercise.
What do you think?