70 hot dogs, 10 minutes: 'Joey Chestnut is America'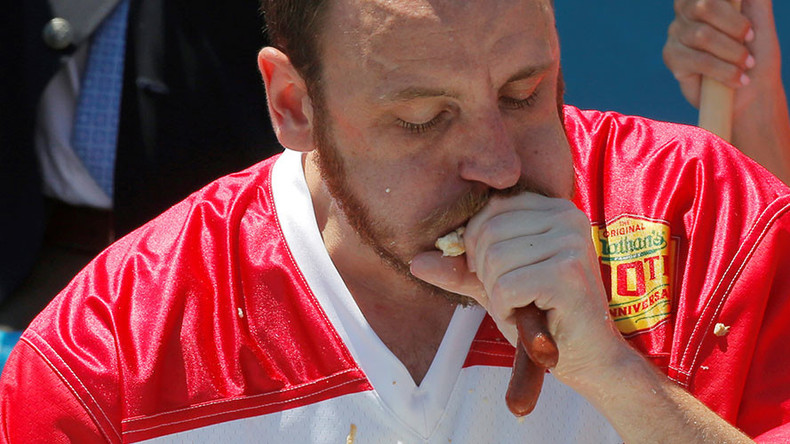 Legendary hot dog gobbler Joey Chestnut boosted his reputation as one of the world's most competitive eaters after putting away 70 hot dogs in just 10 minutes at the annual Coney Island Fourth of July contest in New York.
"By all that is holy, I've never seen Chestnut eat like this… Joey Chestnut is America," DNAinfo New York quoted George Shea, co-founder of Major League Eating, the world governing body which adjudicates professional munching competitions.
The iconic Nathan's hot dog stand has hosted this event since the 1970s. However, legend has it that, following an argument about patriotism, the first-ever face-off actually took place in the area between "four immigrants" back in 1916.
This year saw, the top "weapons of mass digestion", Matt 'The Megatoad' Stonie and Joey 'Jaws' Chestnut surged ahead of the pack during the 100th anniversary of the belly-busting competition, which has a total prize purse of $40,000.
The pair sit atop the food table of Major League Eating and are regarded as "competitive eating stars."
While Monday's event was mostly about claiming the much coveted Mustard Yellow International Belt, it was also a chance for spectators to see the iron stomach duo push themselves to the limit.
In front of a chanting crowd, Chestnut, who is also a burrito gorging record holder, bested his rival Stonie to regain the belt.
Scores of people attended the 'brat race,' with video of the event showing participants forcing buns and wieners into their mouths.
"He is the tyrant lizard king. This is not a democracy. This is one man rule," said one of the color commentators of the national TV broadcast, about Chestnut.

Chestnut has since taken to Twitter to thank his fans, declaring that he enjoyed pushing the boundaries.