Thousands of Iranians stage anti-Israel rallies to mark 'Al-Quds Day' (VIDEO, PHOTOS)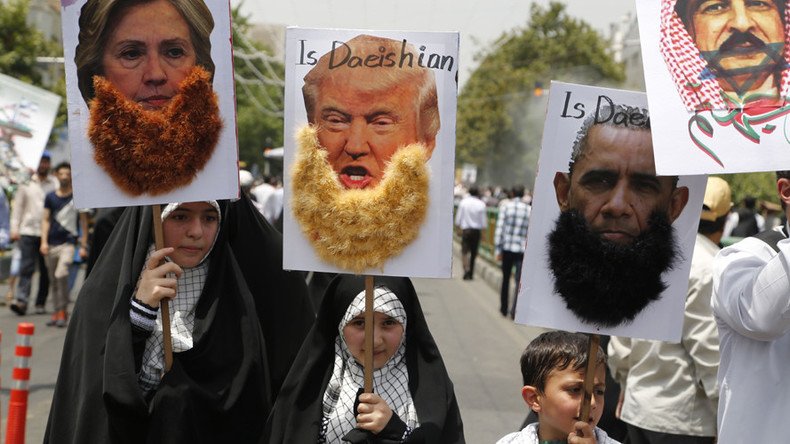 Demonstrations have taken place across Iran to mark Al-Quds Day, the country's annual event to show solidarity with Palestinians.
Mass crowds held up banners with slogans such as "Stop Israeli terrorism, free Palestine" in Tehran on Friday with some protesters chanting "Death to Israel," while others burned American flags and a replica of the Statue of Liberty with the Star of David on its head and other effigies.
Some protesters held up signs with portraits of Hillary Clinton, Donald Trump and Barack Obama sporting beards, with slogans reading "Is Daeishian," in reference to terrorist group Islamic State (IS, formerly ISIS/ISIL,) during the parade.
In a tweet ahead of the event, Iran's Supreme Leader, Ali Khamenei, said: "Once again united cries defending oppressed people of Palestine will rise across Iran and [the] Muslim world."
With Divine Grace, on Fri., #QudsDay, once again united cries defending oppressed people of #Palestine will rise across Iran & Muslim world.

— Khamenei.ir (@khamenei_ir) June 29, 2016
The country's president, Hassan Rouhani, also attended the rally, calling for unity between Muslims and said conflicts in the region were making it harder to address the issue of Palestine.
Foreign Minister Javad Zarif also marched alongside protesters for the event.
Some children had their faces painted with the Iranian flag as they marched to celebrate the event, which coincided with the last Friday of Ramadan.
Named after the historic Arabic term for Jerusalem, Al-Quds Day has been marked by the Islamic Republic of Iran since the beginning of the 1979 revolution. Iran does not recognize Israel as a legitimate state.
In Pakistan, demonstrators burned the Israeli and American flags as they marched through Islamabad.
Smaller demonstrations to commemorate the day also took place in India.
READ MORE: Palestinians clash with police as Jews try to access Al-Aqsa Mosque in Jerusalem
You can share this story on social media: