Free hugs for Ronaldo? Fan breaks onto pitch amid Portugal vs Poland matchup (VIDEO)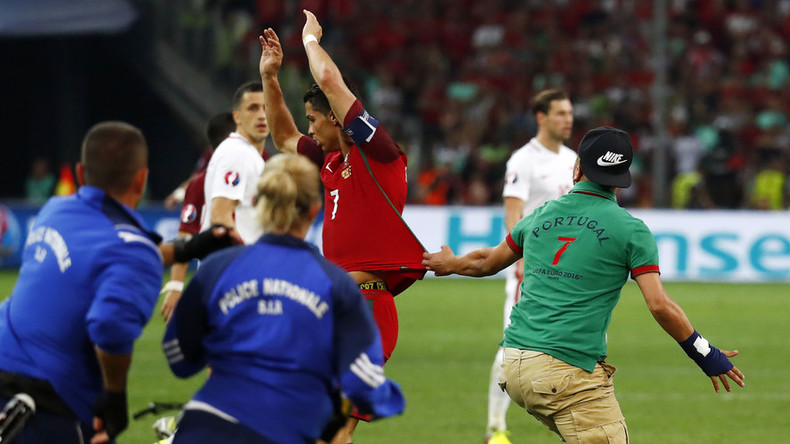 A fan shocked a football stadium in Marseille as he sprinted into a football field aiming for Portugal's Cristiano Ronaldo amid the Euro 2016 quarter final game against Poland. Some have suggested that the guy just wanted to hug Portugal's captain.
For a true fan a risk of being tackled by dozens of security guards is worth the risk.

A video footage from Portugal-Poland game showed a crazed fan wearing Portugal's football colors – green and red – sprinting out onto the football field. He allegedly wanted to hug Portugal's captain Cristiano Ronaldo.
In the last second, Ronaldo dodges the embrace.
Moments later around a dozen security guards rush after the fan, tackling him down to the ground.
Portugal beat Poland 5-3 on penalties in their Euro 2016 quarter final match on Thursday, booking a spot in semi-finals on July 6. The win came after substitute Ricardo Quaresma scored the winning spot kick following Jakub Blaszczykowski's miss.
Fan runs toward Cristiano Ronaldo. Presumably intending to replace him on the pitch, as he'd probably be on a hat-trick by now.

— Darryl (@LordMoloch) June 30, 2016
The team now waits for the winners of Wales versus Belgium match, scheduled for this Friday night, to find out their semi-final opponent.