Daredevil volunteers test glass bridge safety in China - with sledgehammers (VIDEO)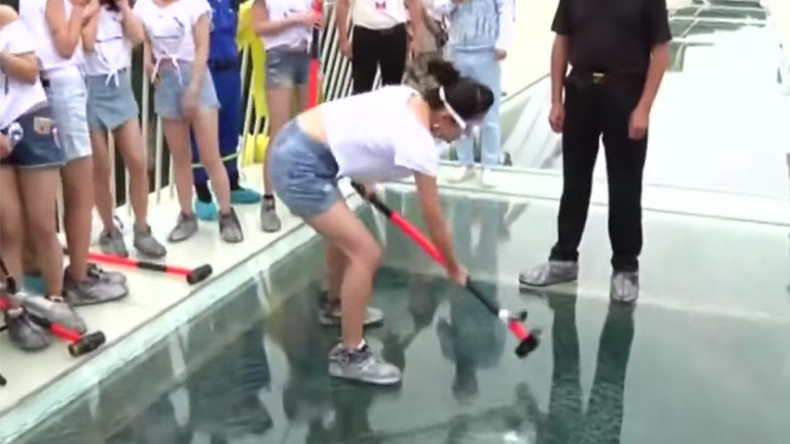 A showpiece glass bridge in China which hangs above a 300-meter drop has been smashed up by a group of volunteers wielding sledgehammers in a bizarre effort to prove its safety credentials.
The 430-meter-long walkway joins two sides of the Zhangjiajie Grand Canyon and is made from reinforced glued glass panels.
The stunning feat of architectural engineering is reportedly due to open to the public this summer and provides brave visitors with spectacular, unhindered views of the Zhangjiajie National Park in Hunan province.
Engineers behind the project say even if the worst does happen, and the 5cm glass flooring cracks, each panel can still bear the weight of up to 20 people.
READ MORE: Skywalkers: China builds terrifying glass bridge over giant canyon (VIDEO)
In a bid to prove these claims, a group of volunteers were given sledgehammers and told to give it their best shot at cracking the bridge's floor in a game where the winner risks a nasty fall.
Video footage of the weird and daring 'safety test' shows volunteers screaming with terror as a woman smacks the bridge floor with a large hammer.
Thankfully no-one succeeded in knocking away the glass paneling, which was extensively cracked but remained safely intact.
A Volvo SUV was then driven over the smashed glass to 'hammer home' the point that this vertigo-inducing overpass can be trusted.
The bridge is the latest glass pathway to be constructed in the country and is the work of award-winning Israeli architect Haim Dotan.
While glass may be the new fad for Chinese bridge building it's not without its problems. Last year tourists to the Yuntai mountain resort got the fright of their lives when a two-week-old see-through pathway began to crack beneath their feet.