'Near death experience': Singapore Airlines jet bursts into flames on emergency landing (VIDEO)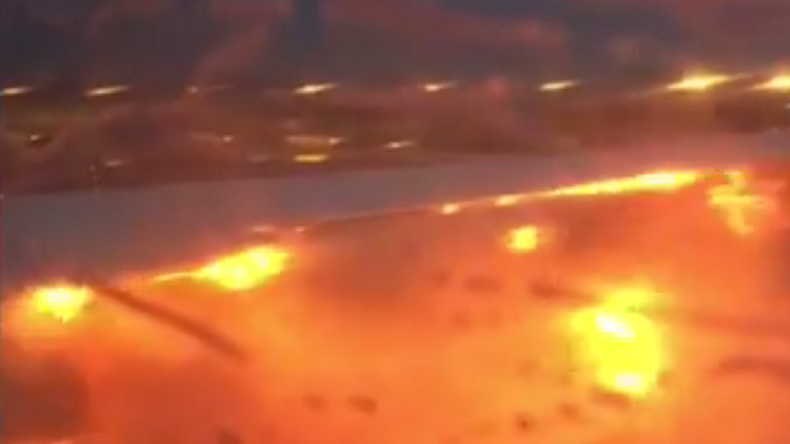 A blaze engulfed the right wing of a Singapore Airlines aircraft after its engine caught fire during an emergency landing at Changi Airport, forcing the evacuation of 222 passengers and 19 crew aboard the Milan-bound plane.
Several hours into the flight, an oil leak forced SQ368 en route to Milan to turn back and make an emergency landing at Singapore Changi Airport at around 6:50 am local time.
"The pilot informed us there was a leak, and that the plane would have to turn back to Changi Airport as it did not have enough fuel for the journey," the Straits Times cited one of the passengers as saying.
The plane's wing burst into flames soon after the aircraft touched down .
fire after it touched down at ard 6.50am. The fire was put out by airport emex svcs & no injuries to the 222 pax + 19 crew on board. 2/3

— Singapore Airlines (@SingaporeAir) June 27, 2016
"The blaze was quite fierce and we waited for around two to three minutes before the fire engines arrived," a witness added, while another passenger described the incident as a "near death" experience.
"Passengers disembarked through stairs and were transported to the terminal building by bus," Singapore Airlines told Yahoo in a statement. "Passengers will be transferred to another aircraft,which is expected to depart for Milan later today."