China launches next-gen carrier rocket from new space center (PHOTOS, VIDEOS)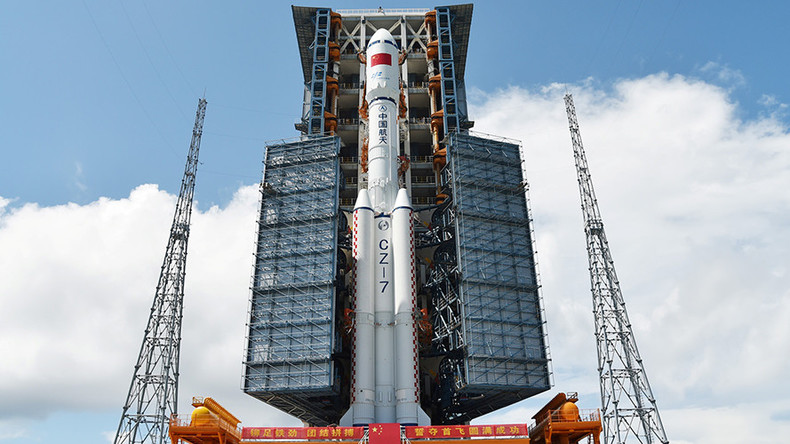 China's next-generation carrier rocket made its maiden voyage into space Saturday from the new Wenchang Space Launch Center on Hainan Island, southern China.
The main payload for the Long March 7's first mission was a test version of its next generation capsule and cargo for China's planned space station. It blasted off during a successful launch at 12:00 GMT.
The Long March 7 rocket, 174 feet (53.1 meters) in length, can carry up to 13.5 tons into low-Earth orbit. It uses an environmentally-friendly fuel made up of kerosene and liquid oxygen.
Development on the launch vehicle began in 2012 by the China Academy of Launch Vehicle Technology (CALT). It was originally intended for use on unmanned and manned flight missions under the China Manned Space Program, according to NASA Spaceflight.
This is the first of a number of initial test flights before the rocket will be used for manned launches.
Long March 7 is just one of a new launch family that will also include Long March 5, a heavy-lift launch system and Long March 6, a rocket that will launch small satellites into space.
The Shenzhou manned space capsules are based on the tried and tested Russian Soyuz design and are intended to serve the next generation of Chinese space stations, the first which is expected to be ready as soon as 2022.
READ MORE: 3-man Space Station crew comes back to Earth, as Soyuz craft lands in Kazakhstan (VIDEOS, PHOTOS)
This is the first rocket launch from the Wenchang satellite launch center and is considered a major boost to China's developing space program.