'Doggie droid' does dishes, climbs stairs - but don't ask it for a drink (VIDEO)
Published time: 24 Jun, 2016 17:29
Edited time: 26 Jun, 2016 19:06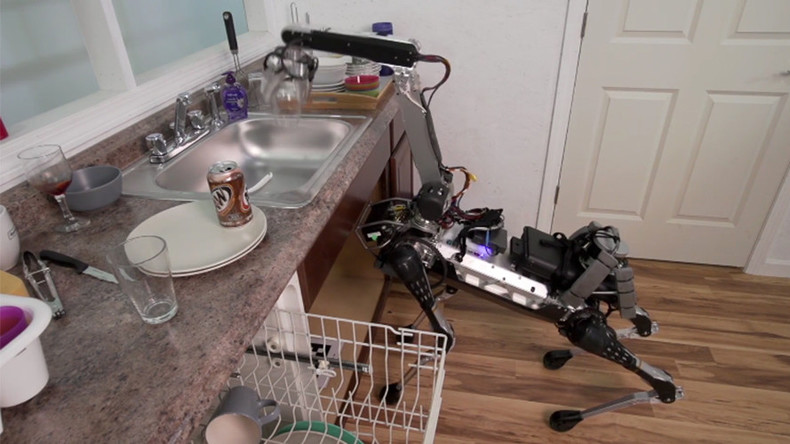 Pioneering technology company Boston Dynamics has unleashed its latest gadget on the world - a four-legged, animatronic house robot capable of doing the dishes.
A spin-off from design work by the Massachusetts Institute of Technology which created robots modeled on creatures in the animal kingdom, Boston Dynamics now has a pack of unusual machines in its revolutionary arsenal.
The latest, a gyrating droid which moves like a well-trained house pet, stars in a new Boston Dynamics video.
A downsized, less noisy version of its Spot robot, the SpotMini weighs little more than 55lb and is entirely electric powered.
Boston Dynamics engineers have previously produced all-terrain robots like BigDog, mechanized by large, clinking hydraulics.
But SpotMini appears to have broken that mould by being one of the company's quietest machines and, from the looks of things, is most likely to be confined to the house as a domestic assistant.
Boston Dynamics says the remarkably adjustable robot, which is fitted with a number of sensors and cameras, can get about autonomously, but perhaps like a puppy "often uses a human for high-level guidance."
Footage of the robot's capabilities reveals it can climb stairs, squeeze through tight spaces and do the dirty work by stacking the dishwasher. It may need some more work on its drink serving skills, however…
Proving that you can't keep a good droid down, SpotMini will even pick itself up if it takes an unexpected tumble.