Helicopter v Seagull: Only one side survived their mid-air collision (VIDEO)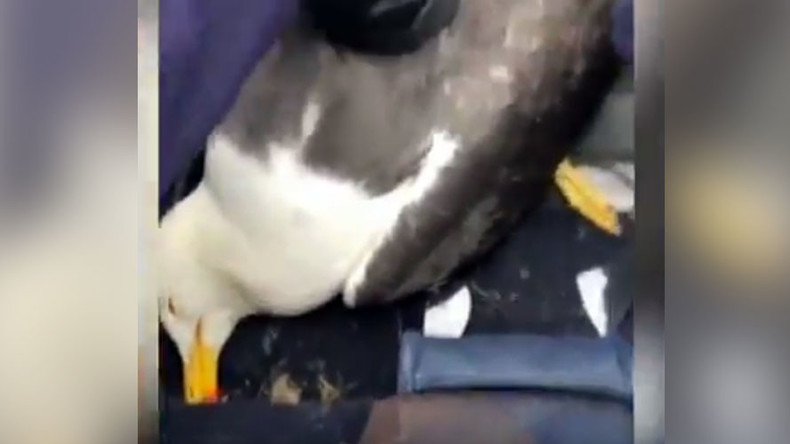 The ongoing battle between human and seagull just went up a notch - after a giant mechanical bird known as a helicopter collided with the feathered variety, causing both of them to fall back to earth.
Captain Phil Robinson was training Howard Stott a little more than 450 meters (1,500ft) above the town of Bolton in the UK last week, cruising at 160kph (100mph), when the seagull flew straight through the windscreen.
Known as one of the most cunning birds in the world, it accidentally (or perhaps purposely, we'll never know for sure) knocked the controls out of Robinson's hands, causing the chopper to plunge a massive 244 meters (800ft) before he regained control and restored some calm to the scene.
"I thought someone was coming through the front windscreen with a sledge hammer," Stott told BBC. "There were feathers flying, glass and everything… just shock."
The video shows the moments that followed, with the unexpected addition to the flight manifest now under Robinson's feet on the floor.
"There's no time to worry or panic when something like that happens because you're just thinking, what's going on?" Robinson told The Bolton News.
Having plunged the height of a 73-story building, Robinson then made an emergency call and landed at a heliport in Eccles.
As for the bird's fate, it is currently sitting in Robinson's freezer with his hope being to have it stuffed before placing it on show in the club room at The Flight Academy at Barton Aerodrome, where he works.
Stott wasn't deterred from his training either, passing his flying refresher exam the following day.
Seagulls and man have been clashing in recent years, particularly in Europe where EU fishing restrictions may have forced the birds inland in search of food.
Gulls aren't the only birds known for their fighting prowess.