Self-driving 3D printed bus named 'Olli' can be hailed via app & learn skills (VIDEO)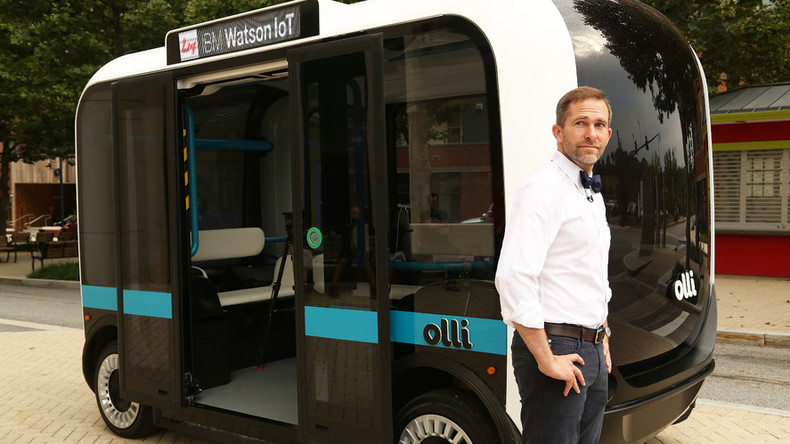 The way humans travel, workout, and even socialise are being questioned by a 3D printed autonomous shuttle bus named 'Olli', which can think for itself using a highly intuitive computer system designed by IBM.
With the capacity for 12 passengers, the neat-looking electric vehicle unveiled by manufacturers Local Motors on Thursday is set to take to the roads in Washington DC, Miami and Las Vegas this year.
The technology company has built a series of 3D printed vehicles, put together by teams of engineers in facilities described as micro factories in Berlin, Arizona, Tennessee and Maryland.
Olli is the first car to use IBM Watson, software designed to learn new skills and advise its user.
By combining IBM's advanced computing with Olli's 360 degree multi-sensory technology, creators say they have put their foot down and accelerated into the world of intelligent self-driving vehicles.
"Olli offers a smart, safe and sustainable transportation solution that is long overdue," Local Motors CEO, John B Rogers Jr said.
The smart vehicle has the ability to engage with passengers on their journey, its creators say, recommending popular restaurants or destinations as it scoots through city streets. It can also be hailed by its passengers via smartphone app.
A video published by Local Motors shows the talkative, robot chauffeur describing its possible functions, including acting as a university campus taxi service, a mobile gym, a "bus-cafe hybrid" and even a meeting room that picks up people.
Although at one moment in the video Olli appears to turn rogue and threatens to enslave humanity, Local Motors points out that Olli is monitored at all times by human operators so "you can feel completely safe."
Local authorities in Miami-Dade County, Florida, are reportedly interested in launching a pilot program to test its capabilities. County Mayor Carlos Gimenez said deploying self-driving vehicles would be a "big step in the right direction" towards creating sustainable cities.