'Executing' rivals: Aussie MP releases 'disturbing' campaign video in the wake of Orlando (VIDEO)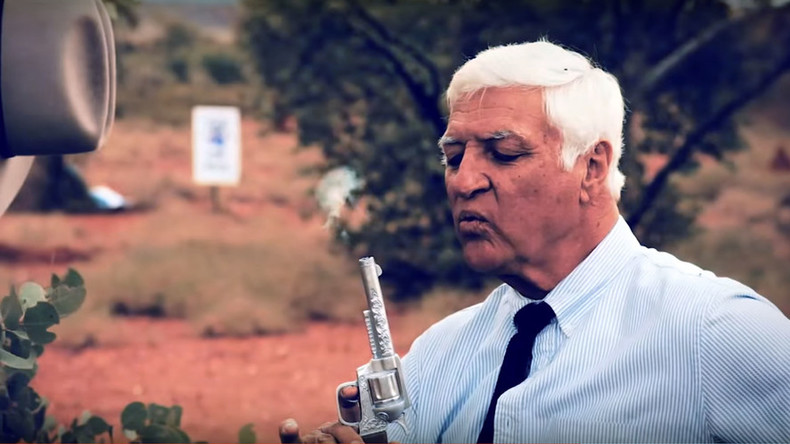 Veteran Australian MP Bob Katter has sent the internet into overdrive after an election campaign ad showing him 'executing' his political rivals went viral.
In the ad Katter is seen repeatedly removing a real-estate sign placed in the middle of the outback by two figures representing the Liberal Party of Australia and the Australian Labor Party. The sign reading: 'Australia For Sale' is then altered by the MP to read, 'Australia NOT for Sale'.
The next shot shows a smirking Katter blowing the tip of a smoking revolver and, as the camera pans skyward, the bodies of the other two men can be seen lying on the ground.
The MP for Kennedy, Queensland, is known for his staunch support of rural Australia and land rights for locals, and is currently campaigning in Australia's parliamentary election. He has voted against gun-control legislation and same-sex marriage in a career spanning more than 40 years.
While, the murder of British Labour MP Jo Cox took place after the release of the ad, many felt Katter's 'execution' video was in poor taste and should not have been broadcast following the Orlando massacre in Florida.
Can we PLEASE rid ourselves of Bob Katter this election? He literally shoots his political opponents in his ad - one of whom is gay #auspol

— James Newburrie (@DifficultNerd) June 15, 2016
Katter was unrepentant, however, insisting he didn't know anything about Omar Mateen's nightclub rampage, which killed 49 people.
"I don't follow the media, I don't watch the television...I haven't read the newspapers in ages," he claimed in a TV interview, the Courier Mail reports.
"The political correctness brigade - they're out there and they are trying to cloud the issue," continued Katter, before imploring his fellow Australians to "keep their sense of humor while the country is being sold off."
Katter's half brother, Carl, who is a member of the Australian Labor Party and openly gay, was furious and gobsmacked at his sibling's ignorance over the Orlando attack.
He described the ad as "offensive, violent and very disrespectful", telling Same Street he found the timing of its release "greatly disturbing".
The weirdest bit of the Katter video... his brother is a candidate for the ALP. Is he shooting him?

— Osman Faruqi (@oz_f) June 15, 2016
However, some on Twitter focused on what they saw as the hypocrisy and political opportunism of Liberal prime minister Malcolm Turnbull in criticizing Katter's ad while Turnbull himself recently hosted a controversial anti-gay Imam.
So Bob Katter isn't allowed to do a funny add with a gun, but @TurnbullMalcolm is allowed to have diner with Imams who want all gays dead?

— brian cox (@bigdog1169) June 17, 2016
Turnbull's decision to dine with a gay hate imam, days after Orlando, is telling #auspol

— Roland Jamez محص (@RolandJamez) June 17, 2016
Afterwards, Turnbull said he regretted inviting Sheikh Shady Al-Suleiman to his event, adding that "homophobia should be condemned everywhere,"ABC reports.