Rolls-Royce self-driving luxury car is a lavish stagecoach for the future rich (VIDEO)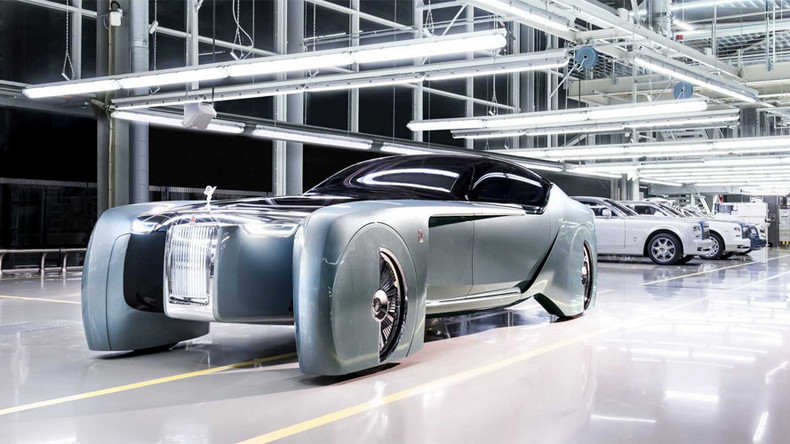 Rolls-Royce has unveiled its ultra-futuristic take on a royal coach, which could autonomously ferry the well-to-do around utopian megacities while advising them on business meetings via an artificially intelligent chauffeur.
The BMW-owned marque unveiled its vision of "the future of luxury mobility" at a concept car event in London on Thursday, revealing a vehicle known at the Vision Next 100.
While centuries ago, the well-heeled would have traveled in horse-drawn carriages fit for a king, the Vision Next 100 provides an insight into how the rich and powerful may get about years from now, in a vehicle likened to a "stately carriage."
The luxury limousine resembles a vehicle from the Tron films, and at 5.9 meters long and 1.6 meters high, the makers are also perhaps predicting giant leaps forward in the size of future parking spaces.
Rolls-Royce maintains the iconic Spirit of Ecstasy hood ornament, handcrafted in glass, which sits atop the car's illuminated pantheon grille.
The automobile has been designed to offer customers a "grand arrival,"say Rolls-Royce, with the vehicle's glass canopy and large side door sweeping open electronically to allow "important passengers" to make an entrance.
Instead of a lowly human chauffeur, the car is "driven" by Eleanor, an artificial intelligence system with the ability to learn about "her" owner's life, which can engage in conversation as passengers relax in the luxurious cabin.
"Imbued with her own artificial intelligence, she works intuitively to advise her owners on itineraries, schedules and options before they leave their residence, reminding about appointments and tasks and making suggestions to ease any anticipated impediments," according to a Rolls-Royce statement.
Showing just how ostentatious Rolls-Royce envision their future cars to be, the Vision Next 100 includes an ivory-colored silk sofa and thin film OLED screen for commuters to get updates on their journey.
Inside, the car is decorated with Macassar wood-paneling, while a light on the side door step gives the impression that a red-carpet is being rolled out.
The designers say the 28-inch wheels, hand built using 65 individual sections of aluminum, are enclosed, creating the impression that the car is skimming across the road's surface. Rolls-Royce better hope that speed bumps are eliminated in future society, if owners are to enjoy the promised smooth drive.
"The Rolls-Royce patron will continue to be a famous figure in the future," director of design, Giles Taylor said.
"I envision that the Rolls-Royce Vision Next 100 will play a key role in these people's lives, guiding and conveying them effortlessly through their life's journey in an exquisite sanctuary where they can reflect in peace ahead of arriving in the grandest style."