Dazzling 'Deathstar': Inventor blows 5,000 fireworks in 20 seconds (VIDEO)
Published time: 10 Jun, 2016 14:17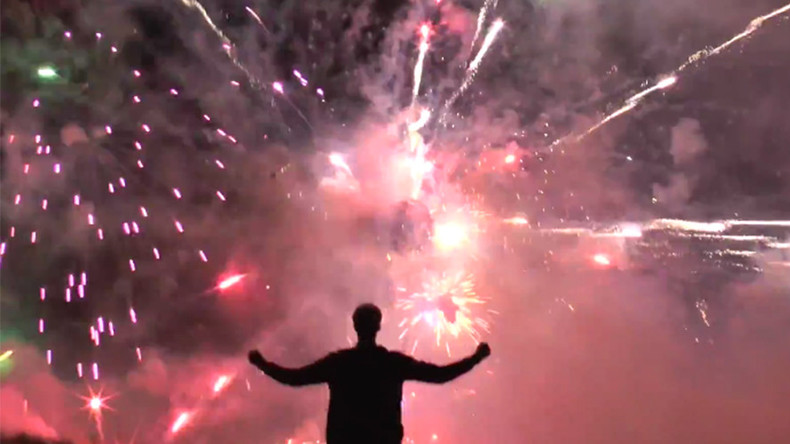 Madcap inventor Colin Furze has followed through on his promise to 'reward' visitors to his Youtube channel by setting off 5,000 fireworks arranged in a makeshift "Deathstar".
Last week, the British presenter and crazy craftsman announced online that he had a very special explosive surprise in store if he reached the 3 million-subscribers mark for his Youtube channel.
"I didn't think I'd be doing this quite so soon. This is what I am thinking - 87 shot [firework] cakes… we're going to turn them into a massive ball," he announced.
"Then we're going to hoist this thing up as high as we can into the sky and connect all the [firework] fuses together so they all go off at once," he said.
Read More: Scrap metal madness: Plumber creates DIY 'firework rocket launcher' to blow his socks off (VIDEO)
And sure enough, the DIY Lincolnshire inventor kept his word, creating an explosive orb attached to a digger capable of filling the night sky with bright flashes and colorful shrapnel.
Furze required two vans to transport the massive haul of fireworks, known appropriately as 'Sky on Fire,' before rigging them to a steel frame he fashioned in his own backyard.
The result was a giant pyrotechnic launch pad, or as Furze calls it: the 'Firework Deathstar'.
Placing the contraption at a local airfield, Furze then ran the 80 meters to safety, dodging the flaming rockets as 58 boxes of fireworks went up in smoke in just 20 seconds.