Moscow as you've never seen it: Main street near Kremlin ripped apart for renovation (PHOTOS)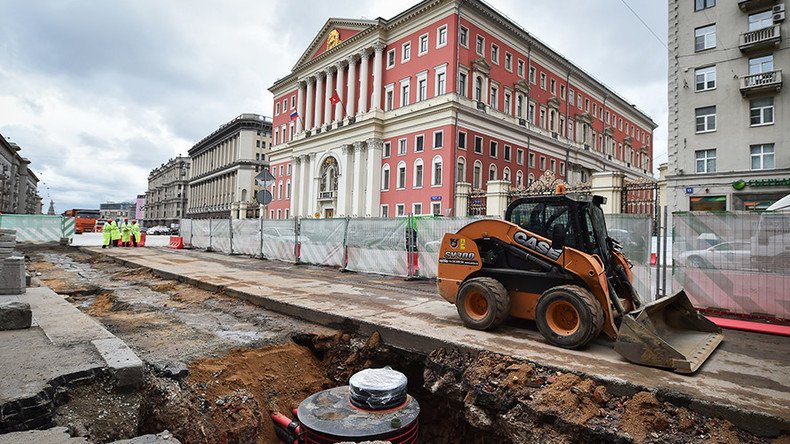 Thousands of people in Moscow expecting a lovely stroll along one of the Russian capital's widest and most famous avenues, Tverskaya, are now finding themselves amid construction machinery and blocked pathways.
Images of the street undergoing a major renovation have gone viral, with mountains of sand, asphalt and huge trucks and diggers blocking views of the Kremlin.
For many, the construction works that started in May and which are scheduled to last throughout the summer, have come as an unpleasant surprise.
The street has been partly closed for traffic – obviously annoying Moscow's numerous drivers, while pedestrians have to scramble along makeshift walkways.
Over the weekend, Tverskaya was sealed off altogether, for the workers to be able to trench through the street in a blistering dig out – dig in operation.
Works of such a huge scale were carried out in the Moscow center some 70 years ago.
According to the Moscow mayoral office, the works were launched at the request of Muscovites themselves. Following a public opinion research with the help of an online platform, it has been decided to make the street more comfortable for pedestrians and return it some of its historic features.
More than 90 lindens chopped down in the beginning of the 1990s will be planted along Tverskaya. Over 70 street lights of historic design have also been promised to decorate the street, while 24 kilometers (15 miles) of wires will be removed from above people's heads and hidden underground. ("What if something goes wrong? Does that mean they'll have to start digging again to fix it?," some wary social media users wondered.)
Saying that in some parts the street's renovation is recurrent, with the paving having been replaced only a year ago, member of Russia's Public Chamber Georgy Fedorov has sent an inquiry to the mayor regarding the works. "In the Russian language, it's called not renovation, but rent-seeking," Fedorov said, as quoted by Russkaya Planeta.
The city hall plans to spend 125 billion rubles (nearly US$2 billion) on Moscow streets renovations until 2018, according to Russia's Public Television (OTR).
The authorities have promised that the new look of Tverskaya will not badly affect car-owners, saying that there will be four traffic lanes in each direction, but they'll become narrower. Pedestrian sidewalks, on another hand, will be made wider, which will allow up to 24,000 people to pass through the street simultaneously each hour, compared to 16,000 before the renovation.
It has also been initially said that parts of the street may become an outdoor museum, as some historic artifacts – like a wooden pavement from the 17-18th centuries – were discovered during the digging. It was suggested that it should be left in place and a glass installed on top, for all to see. Yet, the final decision on the matter has not been made, TASS reported citing a Moscow official. The discoveries might just be moved to a museum.
Some 14 archaeological monuments dating back to as early as the 14th century have been discovered underneath the current Tverskaya, archaeology activists told Kommersant newspaper, adding that they are worried they might be damaged and demanding the works be stopped. Moscow officials say they'll take care of the monuments.
And while Tverskaya itself looks like a battlefield, it has definitely turned social media platforms into such as well. Many – as usual – curse the city authorities and the Moscow Mayor Sergey Sobyanin, but others look forward to an even more lovely street, while also recalling similar improvements in other world capitals.
Rome was not built in a day, they say.
You can share this story on social media: