Suspected suicide attempt by SeaWorld Orca shocks tourists (VIDEO)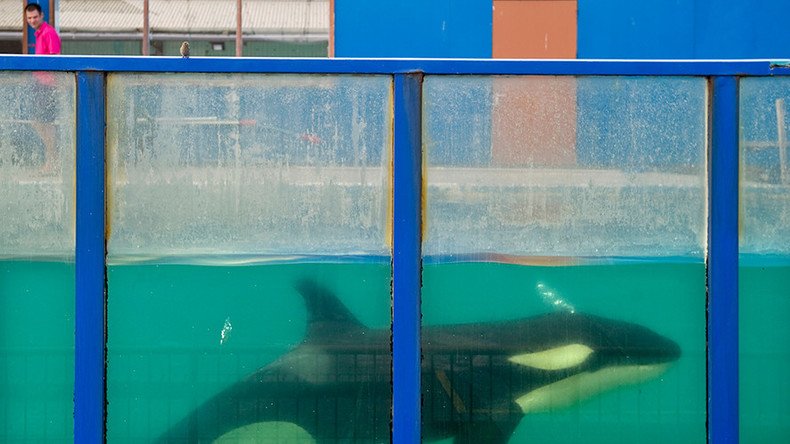 A captive killer whale is suspected of attempting to commit suicide after footage emerged of it beaching itself at a show in Tenerife. The Orca named Morgan, owned by SeaWorld, shocked tourists when she lay motionless on a concrete slab in a move associated with whale suicide.
Visitors to Tenerife's Loro Parque on 16 May witnessed Morgan beach herself for at least 10 minutes before they had to leave the theater. Morgan can be seen moving slightly in the video but does not attempt to get back in the water.
Killer whales sometimes come ashore to hunt but rarely do they spend this long out of the water as their body weight can crush their internal organs. Even while sleeping they maintain movement in the water.
The latest footage comes only weeks after a video reportedly showing the same whale emerged showing her banging her head against a metal gate in an apparent attempt to escape her enclosure.
"The orca is obviously in huge distress and rams its head forcefully against the metal gate in what seems to be an attempt to escape," said Helene Hesselager O'Barry, of the Dolphin Project. The project is campaigning to highlight conditions at the park which they accuse of exploiting their orcas and bottlenose dolphins.
All six orcas at the park are owned by SeaWorld. Morgan was found off the coast of the Netherlands in an unhealthy condition in 2010. After spending a year in an undersized pool she was eventually transferred to Loro Parque.
Despite being rescued under a permit which only allowed Morgan to be rescued, rehabilitated and released, she is used as part of a show at Loro Parque.
Morgan is the only orca in the park that was born in the wild. According to campaigners she is bullied by the other orcas in captivity.
In a statement Loro Parque hit back at campaigners saying they were attempting "manipulation through exaggeration and dramatization of a completely normal situation in which there is no problem for the animals."
The park claimed Morgan was very active and energetic with some of her erratic behavior, such as chewing the side of the tank, due to her possibly being deaf and using the concrete to receive vibrations in place of sound.
Campaigners are calling for Morgan to be reunited with her family in Norwegian waters, which they believe they managed to track down in 2014 according to the Mirror. In the wild Morgan would swim up to average 100 miles per day.
People for the Ethical Treatment of Animals (PETA) director of animal law Jared Goodman released a statement following the news of Morgan's suspected suicide attempt.
"Morgan was captured from the sea six years ago and has been fighting hard against the trials of her captivity ever since. Her behavior shows that she is frantic to get back to the ocean home that she remembers and misses," Goodman said.
"At Loro Parque, where she is "on loan" from SeaWorld, she is treated as a possession and used for profit," he added.
"She has been attacked by incompatible orcas dozens of times a day, has smashed her head into a gate over and over again, and has now beached herself in absolute desperation. SeaWorld needs to release this suffering orca and the others it holds captive to a seaside sanctuary now."
You can share this story on social media: