Race to the bottom: Hungarian undertakers move heaven and earth in grave-digging contest (VIDEO)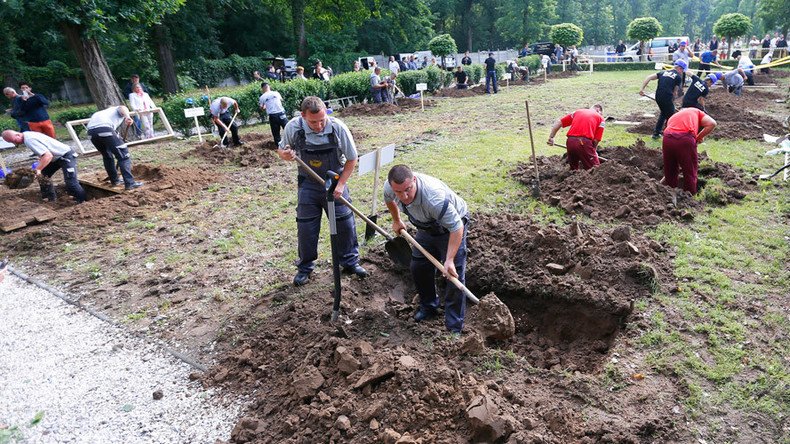 Forget the European Football Championships this summer, undertakers in Hungary are competing in a new sport which pits grave diggers against each other to see who can shovel the fastest and most attractive-looking final resting place.
While for some football may be a matter of life and death, the first national grave digging championship held in the Hungarian city of Debrecen on Friday had its origins in the latter.
The stark-graving mad competition was a precursor to a regional tournament, reports Reuters, and saw a whopping 36 people – split into two-person teams – attempt to dig in for the win.
The back-breaking race see contestants armed with tools such as shovels, rakes and pickaxes, AP reports. The rules appear to be quite simple: the first team to burrow a plot 1.6 meters deep and 2 meters long into the earth, wins.
Contests are also judged on the appearance of the grave, which must measure 0.8 meters wide.
Footage from last week reveals how serious the unusual event is taken, with gravediggers laboring in the heat and calculating the precise measurement of each plot.
The competition is seen as a way to promote grave digging as a profession, which in the modern era appears to be collapsing in on itself.
"These men see death every day. Sometimes people joke about them while they work, but gravediggers are human, too," one contestant told Sky News.
"We are having difficulties finding replacements for our retiring employees. Young people don't like to dig and work," he said.
Despite the event perhaps being a macabre reminder of what awaits those of us who don't get cremated, the vice-chairman of the Hungarian Undertakers Association believes it is about prestige.
"I don't think this is morbid," Zoltan Juracsik said. "This is a profession, and the colleagues who toil in competition today are proud and deserve our respect."
The winner of the bizarre contest was a local team from Debrecen, who will now move on to compete in regional finals against gravediggers from Poland, Czech Republic and Slovakia.
You can share this story on social media: