'God came for his champion': Tributes flood in for Muhammad Ali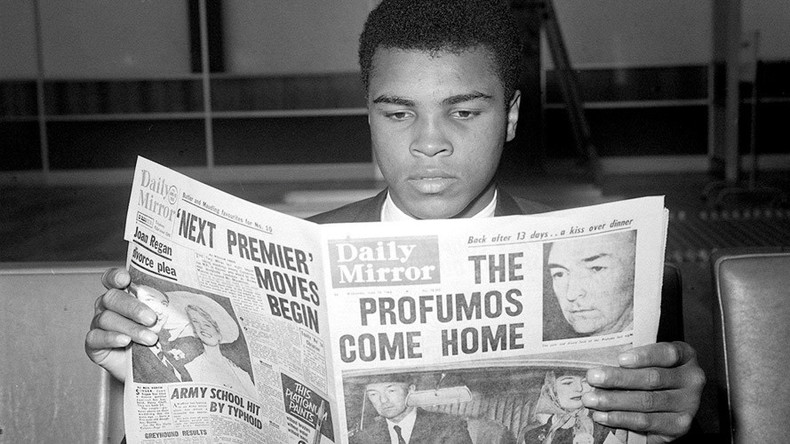 There has been an outpouring of sympathy online following the death of boxing legend Muhammad Ali with fellow athletes, celebrities and fans alike mourning the loss of the former heavyweight champion.
After the 74-year-old passed away late Friday night, friend and "Rumble in the Jungle" rival George Foreman sent a series of tweets to say that "a part" of him had "slipped away" following Ali's passing, "the greatest piece."
"God came for his champion," fellow boxer Mike Tyson tweeted. "So long great one."
World heavyweight champion Tyson Fury said Ali was "the greatest of all times in many different ways," while current middleweight champion Gennady Golovkin said he was "an inspiration to mankind."
Many other boxers from around the world also paid their condolences, including the likes of Oscar De La Hoya, Frank Bruno and Roy Jones Jr.
It wasn't just those involved in boxing though that took a moment to remember "the world's greatest."

In the world of politics too, many familiar faces emerged to pay tribute to Ali, including many related to the White House in some way, such as US President Barack Obama, presumptive Republican presidential nominee Donald Trump, and Democratic presidential hopeful Bernie Sanders.
British Prime Minister David Cameron described Ali as "not just a champion in the ring" but also "a champion of civil rights, and a role model for so many people."
Thousands of Ali's fans around the world have also been showing their affection and adoration for him, some fondly recalling his famous "trash talking."
Ali wasn't one to shy away from controversy and people have been recalling his views on various topics, Others have also pointed out Ali's views on a number of issues, including his views on race and war.
While he may have been one of the most recognised sporting legends on the planet, there were still some who couldn't quite place him, however.