Tiny piglet surfs the waves like a pro in Hawaii (VIDEO)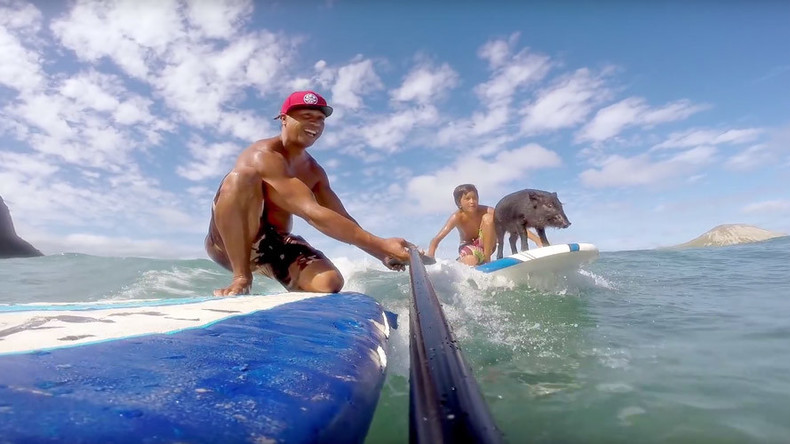 It turns out that surfing runs in the family for these pigs. While "Kama" the surfing pig is used to the waves off the shores of Hawaii, the pig's offspring has joined in on the sport.
Adorable and delightful. This man is so incredible for saving this pig and raising him with love and adventure! :) https://t.co/9jfNdSh2K4

— Aloha from Heather (@heatherhavey) May 28, 2016
there was a surfing baby pig on tv and my dad just got so excited about it

— maddie bertolino (@maaddieeeb) May 27, 2016
Captured on a GoPro camera, the piglet is seen balancing on top of a board, while its owner Braiden Holt slides through the waves off the island of Oahu.
The small "son of Kama" stands at the edge of the surfboard, effortlessly breezing through the water.
Kama the pig has been an online celebrity for quite some time. With almost 19,000 followers on Instagram, the pig stumbled upon the Holt family while they were camping in 2014.
After discovering that the piggy loved water and could swim perfectly, it was only a matter of time before the hog was taken out to surf.
The pigs aren't the first animals to become surfers though.
In California, a surfing goat even inspired a children's book after appearing in numerous YouTube videos.