If looks could kill: Criminal earns #Prisonbae title for 'hot' mugshot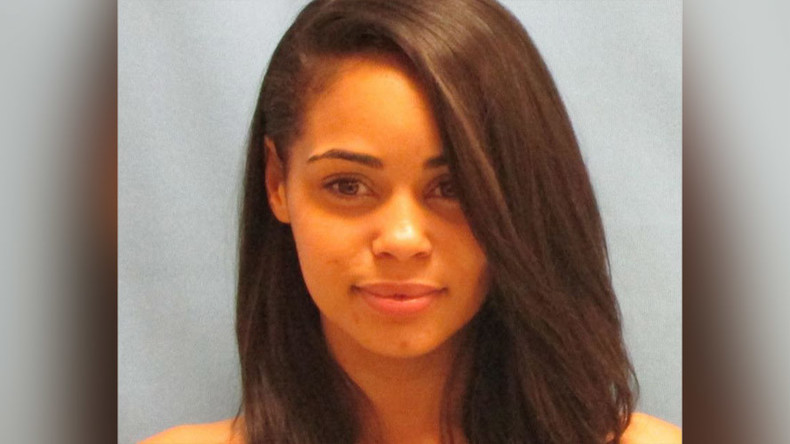 An Arkansas woman should have been convicted for stealing hearts not evading court appearances, judging by the reaction her mugshot is receiving. Sarah Seawright has earned the title 'Prisonbae' becoming the latest 'Hot Felon' thanks to her looks.
Twenty-four-year-old Seawright was in trouble with the law for failing to appear in court in connection with a 2014 careless driving and driving without insurance charge, according to KFOR. When Pulaski County PD arrested her on 28 April they produced the mugshot that has become her claim to fame.
Her looks have earned her a trove of new fans online, unconcerned with her criminal record and eager to see more of her despite her bad reputation.
A fan even attempted to get ex NFL player Chad Johnson to bail her out. Johnson, who has had his own trouble with the law, responsibly advised that #Prisonbae would have to stay put and think about the errors of her way.
This isn't the first time Seawright has been caught by law enforcement. She was previously charged in 2012 with aggravated robbery, kidnapping, first degree battery, hindering prosecution, and tampering with physical evidence, according to Arkansas Matters.
Police said she offered a ride to a man in a Target parking lot who was then robbed at gunpoint by another man already in the car.
Hopefully that's all in the past as #Prisonbae took to social media this week to express her surprise and gratitude for her newfound fame.
We can only hope she meets Jeremy Meeks, aka 'Hot Felon', her male counterpart who got himself an agent after his 'hot' mugshot went viral.
Together they could make a modern day Bonnie and Clyde.