Really high school: Children tackle 800-meter high cliff en route to class (VIDEO)
Published time: 27 May, 2016 16:10
Edited time: 27 May, 2016 16:11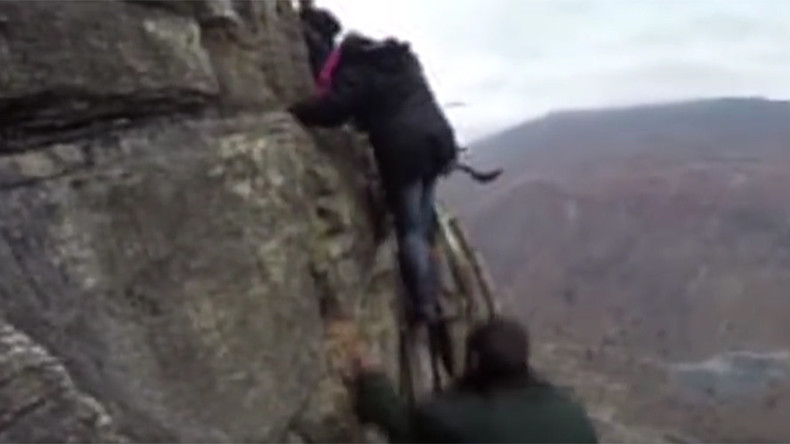 Ferris Bueller would be taking a lot of days off if he went to this school in China. Located in Sichuan province, school children descend a terrifying 800-meter cliff face to get to class using old vine ladders.
Some 15 students between six and 15-years-old from Atuler village, located high in the mountains, make the treacherous journey each day, according to China Daily.
To get to school the students descend from their village using one giant ladder, consisting of 17 smaller ladders tied together.
It is also used by villagers who travel to a town nearby to sell produce including walnuts and peppers.
With no safety net or maintenance, the ladder comes with a huge risk, and a man in his 40s is reported to have died after falling from the ladder recently.
Living in such an isolated place was a necessity to the current residents' ancestors who chose the location to hide from war and tribal conflict, but for today's inhabitants the two-hour ascent and 90-minute descent is proving troublesome.
One resident, Er Dijiang, told China Daily that they are taken advantage of due to their location.
"Our main income is from the pepper and walnut. The buyers know we are from the mountaintop village and that we do not want to carry the pepper or walnuts back, so they offer a much lower price-we have no choice."
Villagers in Atulan, who live on less than US$1 per day, are reluctant to move as they will lose their land.
Due to a lack of funding, an electric elevator that was operating along the cliff's edge was previously shut down but the region's party chief, Lin Shucheng, vowed to take measures to eliminate the old ladder completely by installing a new steel one until a more permanent solution can be found.
Atuler village isn't alone in its remoteness though. Here's a few more examples from around the world: