Python attacks man's penis in terrifying Thai toilet ordeal (GRAPHIC VIDEO)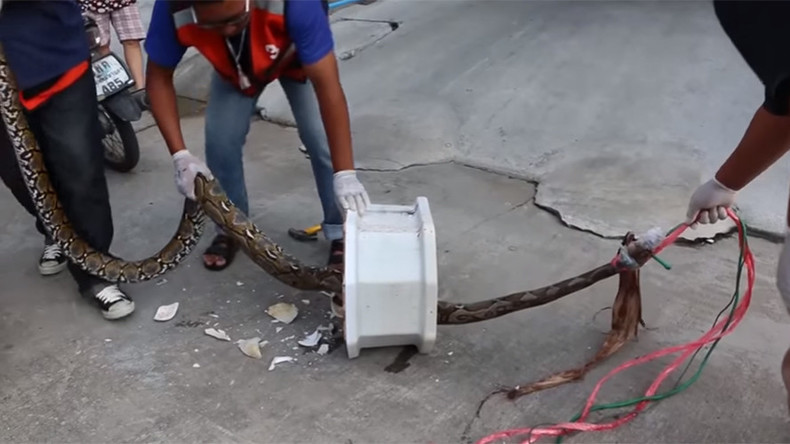 A Thai man is lucky to be in one piece after a massive python slithered through pipes beneath his bathroom floor and bit his penis as he was using the toilet.
Atthaporn Boonmakchuay was literally caught with his pants down during the surprise snake attack near Bangkok, which saw him locked in a bloody struggle with the creature.
The 38-year-old was going about his normal business when the 3-meter long python reportedly emerged from plumbing in his bathroom and snapped its jaws around Boonmakchuay's private parts.
Boonmakchuay's wife witnessed the terrifying snake attack after hearing her husband's shrieks for help, Khaosod English reports.
The ordeal ended only when the couple and a helpful neighbor managed to tie a rope around the snake's neck to better tackle the creature, according to Thairath newspaper.
"I fought it. I called my wife and she went to get the neighbor. It took about a minute for the neighbor to get here," Boonmakchuay told local reporters.
"And all of a sudden, while I was holding it, it began to lose some strength so I used my hand to prise open its mouth. Then the snake released its grip by itself."
Despite the bathroom resembling a murder scene, the victim only suffered a 3cm wound and is expected to fully recover.
"I think he's lucky. We have to watch for infection. If there's none and if the wound is healing well he should be able to go home. But if the bite had gone in the urinary tract it would have been a big problem," Dr Chutima Pinchareon said.
Meanwhile, the snake has been released back into the wild after it was freed from the toilet bowl.
Video of construction workers dragging the creature from the plumbing show the snake was fully grown, measuring more than 3 meters.